Psychology Staff & Students take on Liverpool Rock n Roll Marathon Festival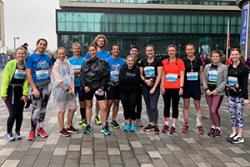 Psychology Staff & Students at the recent Liverpool Rock 'n' Roll Marathon Festival: Image: Dr Fran Garrad ColeCongratulations to School of Psychology staff and students who took on the Liverpool Rock 'n' Roll marathon festival recently.
11 final year students, along with Professor John Parkinson, Head of School, Dr Fran Garrad-Cole, Deputy Head of School and PhD Student, Rhi Willmot, ran the full marathon, with 4 students from the School's innovative 'Born to Run' module competing the half marathon.
The module teaches how to set SMART goals, overcome setbacks and develop psychological resilience and Grit, and then the students apply the theories to the very real and challenging goal of running a marathon. No mean feat, especially when most of these students had not run further than 5k before the start of the module.
Dr Garrad-Cole said: "It has, yet again, been an absolute privilege to teach these students over the semester and to watch them grow in ability and confidence, and to go on to achieve something they never thought possible. They have overcome challenges, dug deep, and found an inner strength that will no doubt serve them well in their graduate lives. John and I are very proud of them all."
Video: Born to Run
Publication date: 2 June 2019