Student Life
Academic excellence and a friendly atmosphere
Rated amongst the top 10 universities in the UK for student satisfaction*, Bangor University is a friendly, convenient and student-centred place to study, with the size and friendly nature of the University being one of the main reasons many of our students choose to study here.
Find out more about life in Bangor
Free membership of all our clubs and societies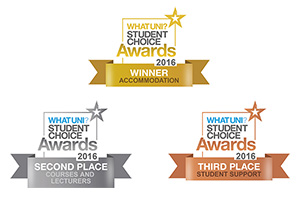 Bangor has over 150 Clubs and Societies, so there is bound to be something to your taste. Membership to any club or society is now free. You can find out more on our Social Life and Sports pages.
Accommodation in modern Halls of Residence
We offer a limited number of rooms for postgraduate students in our halls of residence.
Find out about all aspects of our student accommodation, and more about renting private accommdation and how we can help you with your accommodation needs by looking at the Accommodation section of our website.
Stunning location
The location, the scenery and the surrounding area are also amongst the reasons why students choose to come to Bangor. All this on your doorstep adds a different dimension to student life, with plenty of places to visit in Snowdonia and the Isle of Anglesey, as well as easy access to cities such as Liverpool, Manchester and Dublin for shopping trips or days out.
How friendly and helpful the people are. How accessible everything is. The picturesque views and atmosphere of the town.

Reshalee de Silva
BSc Psychology
Student Support
The Student Services Centre provides professional support services for students. The services offered range from financial advice to welfare support, study skills, dyslexia support and counselling.
There is also a dedicated Disability team to provide advice and guidance on a range of disability-related matters.
Low cost of living
Market research shows that the cost of living in Bangor is much lower than other parts of the UK. Bangor is consistently ranked as one of the most economical places to study in the UK in various cost of living surveys.
Financial assistance
To support you whilst you study, the University has over £3.7m in Scholarships and Bursaries to award to undergraduate students. Find out more about the Scholarships and Bursaries the University has to offer on our Undergraduate Student Finance or Postgraduate Student Finance pages.
Discover Bangor University
For more videos about Bangor University head over to BangorTV.
* according to the National Student Survey.