Hitting the peaks and finding a cause – Search & Rescue member Harriet graduates from Bangor University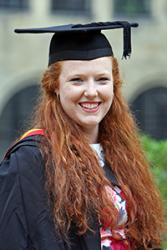 Harriet HicksBangor University's unrivalled location, between the mountains and the sea, has undoubtedly allured many of its students to explore its beautiful, rugged and wild terrain. One student however, has taken her love of the outdoors to the next level by qualifying as a Lowland Rescue Search Technician during her last year of study.
Harriet Hicks, 21, from Attleborough, Norwich graduates this week with a BSc Sport Science (Outdoor Activities) degree. With a passion for climbing, mountaineering and especially kayaking, Harriet's course enabled her to develop her outdoor skills and also gained some National Governing Body recognised qualifications including 3* Sea Kayaking and Level 2 Paddle Sport instructor.
During her third and final year at university, Harriet joined MônSAR, a Lowland Rescue team who are working towards becoming an operational search and rescue team on Anglesey.
The team aims to support the existing search and rescue services by providing specialist land based lowland search personnel. Consisting entirely of volunteers, Môn-SAR is a highly dedicated, motivated and compassionate team that aims to provide the emergency services and the community with year-round, professional and efficient search and rescue expertise to benefit all communities of Anglesey.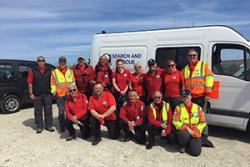 Harriet with her fellow MônSAR team members: Search exercise at South Stack, HolyheadAs a MônSAR volunteer, Harriet was able to undertake nationally accredited courses to qualify as a Search Technician.
Harriet said: "I really enjoyed being part of this very welcoming team, it was a nice break from university work. I found it very enjoyable to learn about topics such as navigation, search skills and radio communications. I was also able to utilise my skills learnt from the practical side of my outdoor activities degree. What's more, as these qualifications are nationally recognised, I'll be able to put them to good use by applying to join a Lowland Rescue team back home in Norfolk when they next recruit."
Huw Thomas, Chair of MônSAR said: "Harriet has been a valuable team member and the skills and experience from her degree have been very beneficial to the team. MônSAR welcomes students to join the team regardless of their current skills or experience, as full training will be provided."
Having worked as a seasonal outdoor instructor in Norfolk during summer vacations, Harriet now aims to forge a career in the adventure tourism industry, hopefully in north Wales.
Publication date: 18 July 2018