Rugby success for University Sport Student
A student from the School of Sport, Health and Exercise Sciences is looking forward to winning his first cap for his country.
Ben Stelmaszek, 21, who was brought up in Manchester, is currently studying a degree in Sport, Health and Physical Education. He has been selected for the Wales Rugby League Student squad to take place in a home countries tournament being held at Nottingham University from April 12th to April 18th.
Ben said:
"Being selected for Wales Students Rugby League has been a real privileged and an honour. I am Welsh myself, so it mea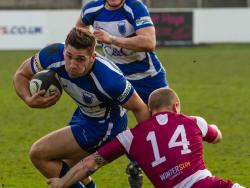 ns that bit more. I personally think that representing your country is the highest honour a person can achieve.

"The University has been very supportive helping me make the trials and the training sessions required in order for me to reach this point in the programme."

Ben has been playing rugby since he was 11 and has played at Sedgley Park RFC, Leeds Carnegie Academy, RGC 1404, Tonmawr RFC, Bethesda RFC and Sale FC. Along the way in his age grade career, he played for Greater Manchester, Lancashire County and the North of England.


Ben added:

"Training and studying is a fine balance and I feel I have struggled at times, especially with the desire to do well with my studies and also a desire to progress as a rugby player.

"The boys at the University have created a great social and competitive environment, and I must thank them for making it enjoyable. I train most days- both fitness and physical training. Training in particular is hard if you are on your own and I must thank my training partner Matthew Hyatt for his ongoing support with our personal training."

After graduating Ben would like to do a PGCE course in Primary Education with a possible track into professional rugby on the side.


Publication date: 8 April 2014