Student Ambassador: Bukola Adetonwa – PhD in Management Studies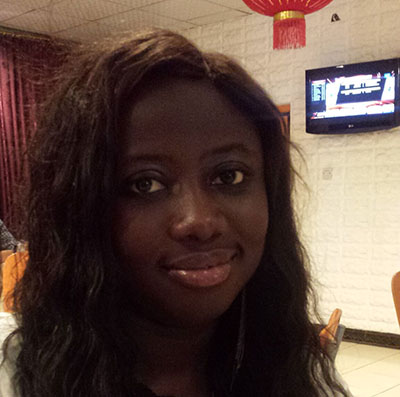 Bukola Adetonwa
Bukola Adetonwa is from Nigeria. She's in her first year studying a PhD in Management Studies.
Languages spoken: English
Why choose Bangor?
I learnt about Bangor University from my fiancée who was undertaking an MSc programme in the School of Ocean Sciences and spoke highly about the University. He said the university was ideal for academic development. After consideration of other institutions, I decided on Bangor University because it had most of what I wanted in my academic experience path: a small student town which gives me the opportunity to engage more in my academics as well as actively socialize with my peers from every part of the world and most essentially a university with a close and direct student tutor connection.
The International Ambassador Scheme
An International Ambassador is a direct student representative of the true values of Bangor University and as such the scheme seeks to identify such individuals within the Bangor studentship system and collaborates with them in publicising the good values of Bangor University to the international community thus encouraging and building a bigger future of the University worldwide.
Becoming part of a new community is difficult for most people and this becomes increasingly difficult if new students are not used to the way of life of their new immediate environment, the international student ambassadors helps the university in taking care of the new students, easing the transition process in their new environment as well as acting as a guide in what is expected from the new student and continuing on this assistance throughout the students' academic journey in the University.
Coming from a very different country very far away, settling into the town, university and climate of Bangor was a challenge. When I first arrived I had lots of questions and needed direction, actively discussing this with an international student ambassador made the student experience to become much easier from then on. Further down the line I felt myself exceeding my expectations academically, this I believe was encouraged greatly by the manner and individuals tutoring me in the different courses and modules. This was clearly evident with my distinction grade at the end of my programme, and thus further encouraged my development in starting a PhD programme which was not part of my initial plan coming to Bangor University. So, in summary I have be able to develop myself at Bangor University and I would like to assist in promoting the University.
What is the most difficult thing about being an International Student?
Personally for me the most difficult adjustment were the climate and the teaching pattern, it was not that the latter was bad, on the contrary my Bangor education was a much higher level being a postgraduate programme than what I was used to in my Undergraduate Programme. I had to be up to the task and match up pace with my peers and instructors. Both parties were very helpful as friendships and partnerships were formed in the process.
The course...
I am currently a first year PhD Student at Bangor Business School. My current study entails independently researching on an original topic with the aim of offering a significant contribution of knowledge to the area of study with the supervision of an expert academic supervisor.
The best thing about it is the support and guidance I have from my expert academic Supervisors.
Describe the academic school
The Bangor business school is great, supportive, multi diverse establishment made up of very supportive lecturers who guide students through their academic journey. The best thing about it is having the environment that supports me with my academic pursuit and I have very supportive PhD Supervisors whom I see future professional partnerships with.
Clubs and societies
Yes, I am an active member of the Afro-Caribbean student community.
What social activities do you enjoy?
I really do enjoy the international multi-cultural activities such as the One World Gala and Student Market as well as local festivities and sites around the general North Wales area such as the Menai sea food festival, the Bangor Cathedral, Beaumaris castle and shopping on the high street and mall. I also enjoy activities organized by the Afro-Caribbean student community where we get to socialize with most of our peers from similar backgrounds, network and discuss issues affecting us, it was at one of such events that I got introduced to other international student ambassadors which as mentioned earlier made my life easier point forward.
What's the best thing about living in Bangor?
The friendly people, the environmental landscape which is purely inspiring from the ridges of Snowdon to the Menai strait, proximity to everything, in Bangor you are always about five minutes away from everything that you would need academically, personally and socially.
What will you miss most about Bangor when you leave?
I would miss everything, the people , the beautiful landscape, my friends, my Lecturers and supervisors, the University itself and the feeling of Bangor as a town run by the university and student life hence it seems to be alive all year round except around Christmas. The feeling would be impossible to replicate anywhere else.
Has the University been supportive during your time here?
The university has supported me immensely in my time at Bangor, It has helped me both in personal and academic development. Some examples are, the international student office has been of great help to me by helping me answer all my question patterning to my education, visas and to a large extent personal recommendations of things to do. Bangor student services and Business school post graduate office have guided me throughout my academics. I have also be able to develop my entrepreneurial skills through different activities organised by the B- enterprising team of the university. In all Bangor University has various student support services to help student to develop their skills in various area, and help with both academic and personal support.
What advice would you give to students planning on coming to Bangor?
Summing up on all my experiences I would say to a new student that would be coming to Bangor University that the University offers impeccable academic standard. The university also offers a lot of free memberships to societies, the school accommodation is modern, and the party life is very much under control in the town, while the environmental landscape is purely inspiring from the ridges of Snowdon to the Menai strait. The university is also made up of different student support teams which will help you both in personal and academic development and studying here will be a life changing experience that would certainly leave an impression in your life.
What are your plans for the future?
For the immediate future I would be focused on finishing strong on my Ph.D. and develop my academic resume for a potential career in academia.
Without the help of international student ambassadors I may not be currently undertaking my Ph.D. study, I have witnessed first-hand the importance of this role and persons to international students and I am honoured to be selected as one of few who get to represent the prestigious Bangor University on a global and local scale. I believe that my experience as an international student would be key in me delivering fantastic results within my role as international student ambassador.