Student Ambassador: Jun Yuan Chin – Zoology with Marine Zoology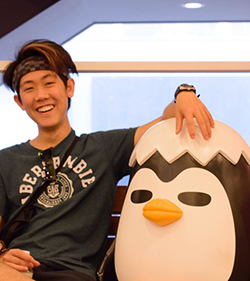 Jun Yuan Chin
Jun is a second year student and is from Singapore
Languages spoken: Mandarin, English
Why Bangor?
I am currently studying Zoology with Marine Zoology and I am in my second year.
I chose to study here because of a recommendation from a senior who had studied Zoology here. He is also from Singapore and spoke highly of the studying environment here. The wide range of Zoology courses offered gave me confidence in the quality of education provided by Bangor University.
The International Ambassador Scheme…
International ambassadors are readily at hand to help new students settle smoothly into Bangor and to clarify any doubts that they have. Coming to a new place can be daunting and having a familiar face to communicate with helps a long way. Many new students may be shy and international students can be a bridge to break the ice for them. International ambassadors are also here to provide potential students with more detailed information and perspective of how student life is around here and their personal experiences.
I want to be an international ambassador because I find joy in helping others especially new comers as having gone through the process myself, I understand how useful and reassuring it can be to have a friendly familiar face to help me out. It reduces my stress greatly and I would like to pass this act of kindness on to others.
What is the most difficult thing about being an International Student?
Making friends initially can be tedious as there isn't much common topic to talk about and unless you take initiative, not many students would approach you. However, once you break the barrier there will be endless topics to be shared due to the difference in cultures and you will get to forge friendship and memories that will last a long time!
The Course
The course has been wonderful. The field trips let you experience learning outside of the usual classroom setting. During your first year, you will learn a whole range of taxonomy of animals and you can get a better understanding of which field of work you prefer in future. You get to practice lab techniques and improve your scientific writing skills greatly.
The Lecturers
The lecturers are very knowledgeable in their respective fields and they are helpful and very approachable. They have an open-door policy in which you can find them any time to ask about queries ranging from personal matters to assignments. They will be more than happy to assist you.
Clubs and Societies
I am involved in Bangor international student society and badminton club. There is a whole range of activities here for you to choose from, be it in an indoor or outdoor setting. There will definitely be one for you!
I enjoy hiking in the Snowdonia mountain range and taking walks to Bangor pier.
Bangor and the area
Everything you need is within reach and is suitable for students to focus on studying.
The best thing about Bangor
The quiet and serene environment.  The city is small and cosy which is ideal for meeting new friends.
Support from the University
The student services has been useful as there are regular workshop held that cares about not only your academic work, but also your soul. Meditation yoga is held weekly and events like these are fun. They give you a chance to make friends and relax.
Advice for new International students?
If you are looking for a quiet, cosy and peaceful place to study, Bangor is worth considering. It is a good change from the hustling bustling pace of Singapore.
The Future
To work in the field of marine animals.