Student Ambassador: Megan Langham – History and English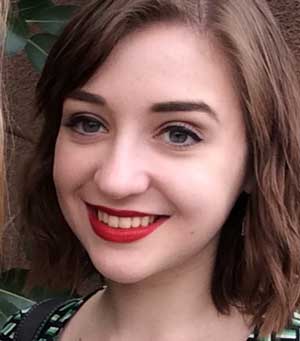 Megan Langham
Why Bangor?
I have always been fascinated by everything about Wales, especially medieval Welsh history, and I had hopes to someday visit - but I had never considered that studying here might be a possibility. When I was taking classes at my local community college, I happened to come across a 'Study in Wales' session that Maggie Parke was offering, realised that the dream I didn't know I had was completely within my reach, and now two years later here I am!
The International Ambassador Scheme
I know from personal experience that arriving in a strange country as a new student, when you don't know anybody and you're not used to the culture, can be daunting. As an ambassador, I want to do everything I can to help other international students both before and after they come here to study so that their experiences in Wales can be as rewarding as mine has been!
The most difficult thing about being an International Student…
Although I didn't have to deal with something as significant as a language barrier, for me it was more about the subtle cultural differences that you don't realise are there until you first encounter them! I missed home a lot as well while I was here, but constant video chatting during the first few weeks helped with that - technology is a wonderful thing!
Best thing about the course?
Everything I'm studying in this course is something I'm genuinely interested in, if not fascinated by - there's so much variety in the modules offered, it's wonderfully easy to choose a year's worth of classes that are well-rounded and challenging while still personalised to your individual interests.
Academic school
The best aspect of both schools has to be the lecturers - each one I've met is extremely knowledgeable, always approachable, and clearly invested in the subjects they teach. The gorgeous building the lectures and seminars are held in is a definite plus as well!
Clubs and societies…
Apart from the International Society, I've done some walks with Bangor UMWC, which I would highly recommend!
Social activities…
When I'm not studying, I like taking long walks with friends, organising day trips to the beach or the mountains, having a few drinks at the pub, and going to different events at Pontio (my favourite is the symphony orchestra!)
Best thing about Bangor?
For a medieval history student, all of the gorgeous castles and cathedrals practically on my doorstep is the most amazing thing that I'll never take for granted!
What will you miss about Bangor?
Apart from all of the friends I've made here, I'll mostly miss the history that surrounds me everywhere I go here. Wales is such a vibrant, defiantly individual country and those qualities are especially clear in Bangor, where the musical language and colourful symbols and rugged mountain peaks are all around you.
Support…
They have been supportive at Bangor! I'm lucky enough to have two personal tutors, one for each course, and they've always been very helpful when I've come to them for advice.
Advice…
Enjoy every moment you have in this beautiful area, keep yourself open to new experiences, and don't be afraid to stray out of your comfort zone!