Student Ambassador: Raquel Gómez Lerma – Childhood Studies and Psychology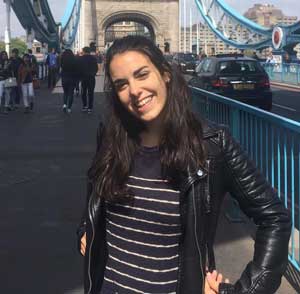 Raquel Gómez Lerma
Raquel Gómez Lerma is Spanish, but was born and raised in Luxembourg. She is 21 years old and is in her third year.
Languages spoken: Spanish, French, English
Why did you choose Bangor?
I found out about Bangor University through UCAS, and I decided to study here because I wanted to go out of my comfort zone, visit a new place and meet different people.
The International Ambassador Scheme
International Ambassadors help students settle down in University, but also give you a taste of home whenever you feel homesick. Being an International Student can be hard sometimes, because you move in into a country that has a very different culture than your own, and sometimes it is hard to make friends or integrate well to the culture.
The course
I am a joint-honours student, since I am studying Childhood Studies and Psychology, I like Psychology because there is a combination of lectures and seminars that help put in practice everything that you have learned in the lectures. Childhood Studies teaches very interesting concepts that are always open to discussion. I like the educational system here in Bangor University, because it encourages you to read and research what interests you most, and you are able to integrate what you have researched on your assignments. Another aspect I appreciate, is how friendly lecturers and staff members are, always ready to help you.
Social Life
Bangor University provides you with the opportunity to join many clubs and societies. I myself am involved in the Christian Union and Women's Rugby that keeps me busy during the week and helped me meet many people that I now consider friends.
One of my favourite things to do in Bangor is exploring with my friends. Bangor has such beautiful scenery and I like to find beautiful places to sit down, watch the sunset and take pictures. I also enjoy getting coffee with my friends, there is a lot of small and cosy coffee shops around Bangor and one of the best things of Bangor is that you can get anywhere by foot. When I leave Bangor I am going to miss all my friends of course but also the cute little streets, the scenery, the squirrels and the Howard-looking University.
Advice for new students
My advice to new students is to embrace all that the University offers, to join clubs and societies and get out of your comfort zone, I, for example, joined Rugby and loved it, so why not try a new activity? Do not be scared of meeting new people, and to take time to discover the wonders of Bangor.
The future
My plans for the future are to graduate from Bangor University having had an amazing time and after that, I will decide as I go.