Student Ambassador: Simran Prasad – Zoology with Marine Zoology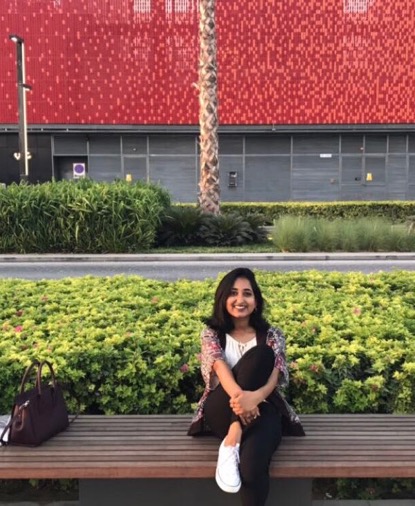 Simran Prasad
Simran Prasad, 19 years old is from India, but has lived in Abu Dhabi, United Arab Emirates since birth. She is studying Zoology with Marine Zoology
Languages spoken: Kannada, English
Why did you choose Bangor?
I was informed about Bangor University through research online and was keen on studying here due to the renowned Ocean Sciences Department the University is famous for.
The International Ambassador Scheme
I believe the International Ambassador Scheme has proved to be very instrumental in helping international students get comfortable, because it encourages a channel of communication with seasoned University students and it informs new, apprehensive students that there are people that have faced similar experiences as they currently do, and people have been able to fit in and get comfortable in Bangor.
The most difficult thing about being an international student?
Personally, the most challenging part of being an international student was the swiftness in emotions I would face on a day-to-day basis. Homesickness definitely stood out, and it was a challenge to feel motivated to get involved sometimes. The Ambassadors I met during my first year definitely eased my mind by being able to relate how difficult this situation was, so I was very grateful to have them around.
The Course
The course has been such a thrilling experience for me! I've been able to experiment with a lot of different ideas, and the University has been able to support me and motivate me in terms of thinking outside the box. I think I've enjoyed the freedom of experimentation, and this has only progressed as I embark on a field course module to Florida in February of this upcoming year!
The lecturers I've had the pleasure of meeting have all been very enthusiastic and passionate about the topics we discuss, and this passion is apparent in lectures, which encourages us to think differently and therefore delve into deeply scientific topics, with a broadened sense of knowledge.
Social Life
I'm currently the Comment Editor of the University English Newspaper, Seren, and an office bearer in the Indian Society. I also enjoy attending Zoological Society Meetings and I'm looking forward to getting more involved in the variety of clubs and societies Bangor has to offer. I enjoy volunteering at the Wales Air Ambulance shop on High Street when I can. The money raised goes towards aiding people in immediate need of medical assistance across Wales.
Life in Bangor
The best thing about living in Bangor is the variety within the community. Despite Bangor being a close-knit town, you end up meeting people from different walks of life, with plenty of eye-opening stories to share.
What will you miss?
I think I'll miss the ease of the town the most. People in Bangor are very easy-going and that coupled with how convenient getting from place to place is, will definitely be what I miss most about Bangor.
Support from the University
The University has been one of the most supportive facets I've had at my time in Bangor. From having a personal tutor, to a concrete support staff, the University goes above and beyond to provide students with any resources they need, and the University also takes great care to ensure students are always taken care of.
Advice for new students
I would advise that students coming to Bangor enjoy the opportunities the University provides, and make full use of any resources. For any students that face apprehension with the initial stages of University, just be aware that Bangor hosts some of the friendliest people you'll ever encounter, and they will undoubtedly make settling down much easier.
Plans for the future?
I'm quite keen on pursuing Veterinary Medicine after my degree, I'd like to work with marine Wildlife in the future and I believe Bangor University has given me a stellar foundation in terms of pursuing further education into this subject.