Student Profile: Alejandra Vergara-Peña – PhD in Ocean Sciences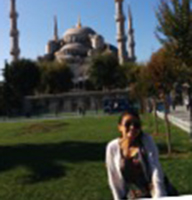 Alejandra Vergara-Peña
From: Colombia
I´m Alejandra Vergara-Peña, proudly Colombian. I'm 27 years old and now I am happily starting my PhD in Ocean Sciences in the area of Marine Biology, after a year of studies in Bangor University undertaking my master in Marine Biology at the School of Ocean Science.
Why Bangor?
First of all we have to think about the university, its schools and moreover the programme we are interested in. Bangor University is ranking not just in the best UK universities, but also it has in mind international students who are trying to find the best opportunities for their careers, giving support to them all the way through.
Also Bangor University has a great plus, the place where it is located, Bangor is an amazing place, different from big, crowdy and noisy cities, here you can have one only place with mountains with ice on top, but also the view of the immensity of the blue ocean.
The International Ambassador Scheme…
When I first arrived in Bangor, changing not just the place where I was going to study, but also living really far from home, changing the food, the whole culture, while facing new habits, I had the luck of finding really nice people that helped me to settle down, people that helped me during those first days when everything was new in my live; as those people I found in my way, I want to be someone´s help and support, I want to share my experiences so that others can improve theirs and in that way all students will get the most of their stays in Bangor University.
My idea is to support students whenever they need, from when choosing the best Uni option, before they come, when they are arriving or even when they are already studying and setting their lives here.
Best thing about Bangor?
Bangor is the place where you can find all you need. You will find a good/beautiful environment or landscape, you will find good lectures, a good study system that thinks about every single student, supporting them all the way from their homes with a dream to accomplish, until when you become that great student with a whole future ahead.
Advice for prospective students…
Once you decide to come, you will have all the support needed, so you can take the most out of this experience, you can just forget about your fears, everything you live here will improve every aspect of your life.
The future…
People worry about the future, but in reality our present is what matters and also it is what would build our own future. Now that I am studying here, I´m sure this was the right choice towards my dreamed future.