Student Profile: Arpita Gargesh – PhD Linguistics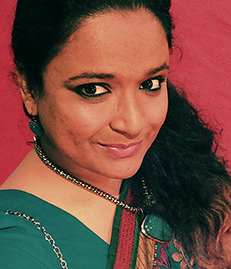 Arpita Gargesh
How did you hear about Bangor University and why did you choose to study here?
I was here for my Masters year in 2015-16, and loved the overall environment. So I decided to come back. For my Masters, I found the University during an online search and applied and received a Full Tuition Waiver. That, along with the School's focus on my area of interest and the potential exposure I could get to various events was what fuelled my desire to study here.
The International Ambassador Scheme
I believe that the International Ambassador Scheme is not only well-thought, but necessary for an institution such as Bangor University, which places its focus on gaining as many ambitious and achievement-oriented international students as possible.
From the perspective of the students themselves, it offers a means for them to adjust to a new environment in a more relaxed way, making the transition easier by having fellow students around with whom they can not only discuss their issues freely, but can do so in their own language. This fosters a degree of kinship that is necessary for them to start their lives as students in a different country, and as individuals from a different culture. I remember what it was like being new to a place – especially one with such a close-knit student circle, and feeling like an outsider, until I met people who were open and accepting of me. Even though I was not completely unaware of the British way of life, it helped knowing that there were people who could help me with the small and often silly things. I would like to take this opportunity to do the same for others.
What is the most difficult thing about being an International Student?
In my opinion, the most difficult thing is to ensure that I do not end up in a smaller version of my country – something I have seen many international students do. The reason we as students endeavour to study in other countries is not only that we want to broaden our academic horizons, but also that we engage with people from different countries, cultures and backgrounds. This is the first step towards becoming a global citizen. However, if we constantly end up in the company of people from our own cultural backgrounds, there is likely to be much less interchange of different thoughts and ideas, defeating the purpose of being in a different country, in my opinion. It is extremely easy to end up that way, especially given the feeling of kinship I mentioned before. However, while it is understandably difficult to switch gears and engage with other people, I believe it is necessary.
Tell us about the course - what's the best thing about it?
The most wonderful part about my course is that it allows me to follow my own path when it comes to research, albeit with excellent guidance from my supervisors. It is flexible enough to accommodate time for any new skills that I may want to learn, and is straightforward and time-bound enough to ensure that I do not drift. I am extremely passionate about my work, and this course gives me an opportunity to follow that passion freely and unencumbered by undue restrictions and influences. Apart from that, I am learning to be open minded about different linguistic approaches – something that is necessary for a research-oriented mind.
Academic school
With regards to the School, I can only say that my supervisor and the overall environment of the School are what brought me back here for my PhD. The atmosphere is friendly and encouraging in every way possible, and while knowledge is valued beyond measure, the thirst for it is cherished even more. This is something I believe every academic institution must emulate – whatever the level.
Are you involved with any clubs and societies?
Currently I am only involved with the Doctoral Society and the Indian Society, although I may branch out a little more next year.
What social activities do you enjoy?
I usually prefer activities that are not overwhelmingly noisy, but can usually manage those as well. From coffee and cake with the Doctoral Society members to the events organised by the Indian Society where I usually perform, I am comfortable with most social activities. I enjoy short trips and excursions that are relaxed and not physically stressful.
What's the best thing about living in Bangor?
There are far too many things to list, but everything from the serene landscape to the availability of excellent cheesecake is part of it. Bangor has a unique soul – it is Welsh, and yet international in so many ways. It is picturesque, but with various amenities available a stone's throw away. It is quaint but in a way urban, yet not buzzing with multitudes like major cities, nor far removed from everywhere else. I find this balance enchanting, and in my opinion, that is the best thing about living here.
What will you miss most about Bangor when you leave?
To me, Bangor is home – I have flourished as my own person here, unhindered by external influences. I was away from this place for over a year, and have known a part of me was missing, even though I had gone back to India – my actual home. When I leave Bangor, I shall miss being in the place that enabled me to grow and learn. I shall miss being part of a student community that is taught a positive learning attitude, and where members are encouraged to achieve their goals.
Has the University been supportive during your time here?
Yes, absolutely. The IEC especially has been extremely helpful whenever I needed aid, and for that I am grateful.
What advice would you give to students planning on coming to Bangor?
My advice to students who plan to come to Bangor would be to focus on developing friendships with fellow students from other backgrounds as much as with those from their own. Student life would be different here than that in many countries, so they should try and adapt as well as possible to the new practices, while also keeping in mind that there is an integrated support system in place for them, which would help them deal with any issues they may face.
What are your plans for the future?
It is too early to say where I would like to be after my PhD, but I am open to working anywhere in the world, provided I can focus on one or both – teaching and research in my field of interest. More than that, I cannot say just yet.