Student Profile: Charu Dada – EdD Education Studies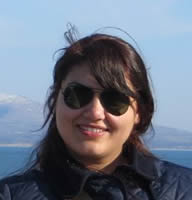 Charu Dada
Why Bangor?
Since I decided my area of research, I was looking for a university which provided me with the best facilities. I looked through all the universities listed in UCAS and zeroed in on Bangor University. Before making my final decision I met a university representative in an education fair in my home country. He was very cooperative and his assistance through the whole admission process was pivotal in my coming to Bangor University.
The International Student Ambassador Scheme…
I believe the International Ambassador Scheme is provides an excellent platform to meet and interact with students from different cultures and traditions. It creates awareness, progressiveness in thought and attitude of all involved. As an international student I understand the problems and apprehensions one feels arriving in a foreign country with no friends or family to support. Being an ambassador would enable me to support and assist the new students to settle down to their new life soon after joining the university.
Hardest thing about being an international student?
For most international students, like me, living abroad, away from family and friends is a first time experience. It can be a daunting task adapting to a different lifestyle, culture, making new friends or even working out the currency. I found having a positive attitude and being open to new experiences helps. You might fall a few times but you will have a happy ending.
The course...
I am currently enrolled in EdD Education Studies programme. It is an interesting mix of taught modules and research study. The best thing is the immense support of the staff and faculty in the School of Education. The faculty recognises the multicultural environment of a classroom, the different requirements of the students and encourages them to do better by giving constructive feedback. The students are well taken care of and all efforts are made to make sure their experience in Bangor is positive.
Have you joined any clubs and societies?
I am involved with Rotaract Menai, we do fundraising events and activities. We participate and compete in the annual Great Menai Raft Race to raise money to help local charities.
Best thing about Bangor?
For me the best thing about living in Bangor is the peaceful, quiet, beautiful views of the Snowdonia Mountains and the sea. Bangor and areas nearby provide an opportunity for people to indulge in various activities like nature walks, mountain climbing, cycling, water sports, fishing or just laying around on the beach in the sun (whenever the sun god smiles!).
What will you miss most about Bangor when you leave?
I would miss the picturesque views, clean air and most importantly my friends who made Bangor my home away from home.
Has the University been supportive during your time here?
The university has excellent support staff in the academic schools be it the faculty, personal tutors and the administrative staff. Lest assured if you still have apprehensions you can always contact the International Student Support team led by Alan, Manuela, Kate and Ekaterina. The team is efficient and always ready to offer support to international students in their hour of need.
Tips for students planning on coming to Bangor?
My advice would be to be ready to explore and experience the new life. Bangor may not be a big city but it has its quaint affability, friendly people and it offers a good student experience.
The future?
After completing my EdD, I hope to take up a position where I could continue working in the academia.