Student Profile: Dominic Wodehouse – PhD in Environmental Science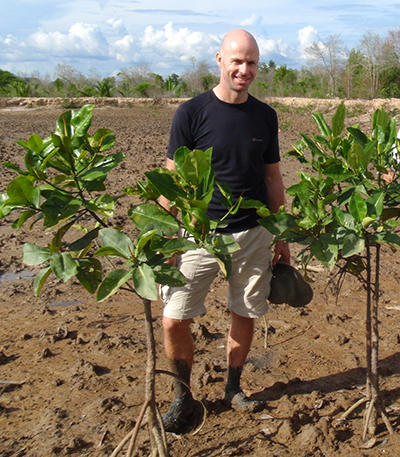 Dominic Wodehouse
Why choose Bangor?
I found Dr Mark Rayment's work on the internet and traced him to Bangor University. He responded to my initial email in ten minutes, and as my supervisor he's been similarly responsive for the last four years. And Bangor was cheaper than London and more attractive than Newcastle.
The International Ambassador scheme
I became involved because I've lived abroad for about ten years, in Thailand, Indonesia, Philippines and Ukraine. I know what it's like to be in a foreign country and how difficult it can be. I know what it's like not to be able to blend into the background. So I can relate to the difficulties students have coming to the UK. Hopefully it helps international students get all the worry and admin out the way, so they can focus on what they should be doing.
The course & Academic School...
This PhD has allowed me to follow my passion and study exactly what I wanted to learn. For me the most stimulating and fun element of the Academic School is the fact that the PhD students come from all over the world, which makes discussions and socialising very interesting and entertaining.
Social Life...
The most fun is having fellow students round for dinner. Being able to cook (badly), chat and throw ideas around makes for stimulating thinking.
The best thing about living in Bangor?
Without doubt the proximity to Snowdonia National Park. In elevated parts of town, one can peek the snow-covered mountains between buildings and clouds, which reminds us what a beautiful place we live in.
What do you miss most about Bangor when you leave?
My 'Blade (2006 Honda). I really enjoy riding around NW Wales and Anglesey, trying out different restaurants and walking. As long as I can concentrate enough to keep 1,000cc under control, riding around the countryside is a pleasure. That and two excellent classes at the gym. And cheese.
Has the university been supportive?
Taking a PhD is very different to a taught course. There is very little structure or discipline imposed. It's up to the student to have the self-discipline to focus and progress. My supervisor has been very supportive as the study and writing has evolved.
What advice would you give to PhD students planning on coming to Bangor?
Follow a passion. Never go silent on your supervisor. Develop as good a relationship as you can with your supervisor as they can acquire all sorts of help, training and budgets for you. Use the 'Early Researcher Development Program' to fill in your skills gaps. Photograph your fieldwork, preferably with geotagged photos. Find out what your fellow students know, where they have been, what skills they have, who they know. Keep your research as independent as possible – don't rely on anyone else and get messed up by their timing. Get some business cards done (independently). Get totally IT proficient (touch-typing, powerpoint, excel, a referencing programme, SPSS). Get paranoid about your data and not losing anything. Read 'The Economist'. Every week.
What are your plans for the future?
I'm going back to southeast Asia to work in some mangrove context, helping communities understand their mangroves better and improving their ability to restore them. Ie, playing in mud