Student Profile: Elliot Sampson – MSc Applied Marine Geosciences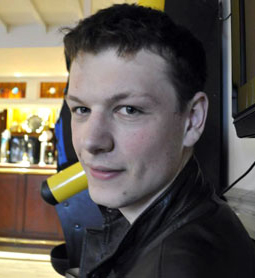 Elliot Sampson
Elliot Sampson from Oxfordshire is studying MSc Applied Marine Geosciences.
Why choose Bangor?
I found a prospectus whilst looking for a place to study my undergraduate degree, went to an open day and loved both the area and course, studied a degree in Geological Oceanography, and then stayed on to study a Masters.
The course...
There is a large focus on practical work; every student who studies a marine science degree has at least one voyage on the university's own research vessel to collect data relevant to their degree. All the lecturers are very approachable and very easy to contact outside of designated teaching hours for help with assignments or feedback. Every student has a personal tutor who is there to monitor progress and offer help with any problems you are experiencing
At Bangor the Ocean Science department is one of the largest of its kind in Europe. The department has its own research vessel, The Prince Maddog, as well as several laboratories and an aquarium to further research in many disciplines, from sediment dynamics to fish behaviour. Ocean sciences at Bangor also has a very active peer guide system, where older students have a group of students who are new to Bangor, where they help acclimatise people to the area and organise extracurricular activities in the first few weeks of term time to help people build friendships that will last throughout the time at university
Highlights...
The highlight of the course so far would be the two days spent on the Prince Maddog learning practical skills, such as acoustic scanning of the of the seabed and its subsurface, which can be transferred into the workplace.
The best thing about living in Bangor?
The unique location between the mountains and the sea means that there are many opportunities to get out and explore. Because of the small size of Bangor everywhere is walkable, with everything being about 15 minutes away, making Bangor a really comfortable place to live in.
Clubs and Societies...
Bangor is one of the few universities in the UK where it is completely free to join all societies. My favourite club this year is the Canoe Club, where there are weekly trips to local rivers to do white water kayaking. There are also training sessions every Monday where people who are new to kayaking can learn skills. It is a club where anybody can join.

I also take part in the Climbing society where there are weekly trips to indoor climbing walls, as well as trips to the local area, and I partake in the Archery club, where there is indoor shooting every week and occasional competition shooting.
What will you miss most about Bangor when you leave?
From a practical point of view, I will miss the convenience that Bangor provides, from the 10-minute walk to most of the major supermarkets to the great kayaking and climbing features that Snowdonia provides being on our doorstep. However, I think the thing I will miss the most are the great friends I have made over the period of time I have been here.
Plans for the future?
Hopefully I aim to apply to get onto a graduate scheme before I finish my degree, where I can get the experience required to allow me to be more flexible in my choice of jobs. From there, who knows!