Student Profile: Jordan Glendenning – PhD in Digital Fiction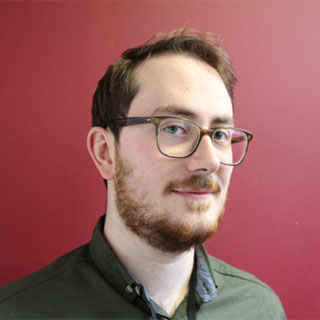 Jordan Glendenning
Jordan Glendenning is 25, from Darlington, and studied for a BA (Hons) Creative and Professional Writing and MArts in Professional Writing before beginning studying for a PhD in Digital Fiction. Jordan is in his first year of study whilst also working as a Graduate Teaching Assistant in the school.
Why Bangor?
I found out about Bangor through looking for great Creative Writing courses. Most universities provide only a "with Creative Writing" or "and Creative Writing" degree; I was looking for something more substantial. When I visited Bangor for an Open Day I was blown away by the scenery, having come from a small Northern valley to the foothills of the Snowdonia mountains. The lecturers here were all knowledgeable and friendly too.
Studying and working...
I'm undertaking a PhD in Digital Fiction whilst working part-time as Graduate Teaching Assistant in the school. My research looks specifically at how writing a multi-threaded narrative in digital fiction affects the creative process. My project is practice-based research, meaning that the research comes from the practice, and the practice comes from the research. As I study the subject, I create a text that is both informed by and informs my research.
I receive a fee-waiver for the programme because I'm a Graduate Teaching Assitant, and without it I wouldn't be studying for my PhD this soon.
Bangor as a place for postgraduate students ...
The support I have received being at Bangor has been fantastic so far, not only from other postgraduates themselves, but from the members of the department, and even support staff from around the university. Everyone is eager to help.
Any highlights?
There are many highlights, including teaching students and someone getting their first A, hitting the final word on my Master's dissertation, and my graduation ceremony.
Any difficulties?
The most difficult thing is the protracted time away from other people whilst undertaking self-study. It's not always great to shut ourselves away from other people. Sometimes I have to remember that as a postgraduate it's possible to attend workshops and seminars that can really help you improve your research, general study skills, and CVs - all postgraduates should take advantage of this.
Do you think your time at Bangor will help you in the future?
Yes, most definitely. The opportunities provided to me here have been amazing, and the working relationships with peers and colleagues are likely to last my entire career. Some of the mentors I have had at this university have been almost vital in my improvement as a student and a person.
Plans for the future ...
After achieving my PhD, I plan to teach Creative Writing, preferably some form of digital fiction, whilst publishing as a writer, and furthering my research.