Student Profile: Marcela Porto Costa – PhD in Environmental Science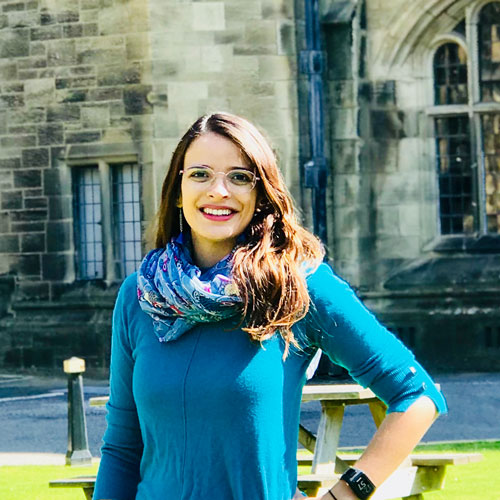 Marcela Porto Costa
Why Bangor?
I heard about Bangor University through meeting my future supervisor at a conference. I chose to study here due to the credibility of the Environmental Science School and due to the fantastic project opportunity.
The International Ambassador Scheme…
I wanted to become an Ambassador to support students in improving their time and experience in Bangor, and also to connect with people from different cultures.
What is the most difficult thing about being an International Student?

I believe the most difficult thing is the feeling of homesickness and the constant effort necessary to adapt to a new culture, to feel accepted and less insecure. Fortunately, there are many nice people here: we can make friends that become just like our family. The Welsh people are very nice folk and the university provides a lot of events and wellbeing support.
The Course

As a PhD student I have many opportunities, as well as my research: The best thing is that I can join any module that I think is relevant to my work, any language course (through languages for all), participate in training sessions focused on research skills, Enterprise workshops and wellbeing lectures regarding mindfulness, anxiety, stress among others.
The Lecturers

The training offered can really make a difference to your research. If I needed to acquire some specific skills outside my School, my lecturer was always available to advise me.
Clubs and Societies

I have started at Lindy Hop society (connected to the dance society). I also joined the Doctoral society. 
Bangor and the area

I love to go for lunch and coffee/tea with different people. In Bangor we can find many interesting people and it is always nice to chat with them. I enjoy hiking, cycling and having picnics. I also love to go for trips to explore the local area (there are some great castles) and also activities such as bowling, board games, parks, etc. I really like trying new things!
The best thing about Bangor?

Everything is very close and convenient, and there are many societies and many different things to get involved with.  When I leave I will miss my friends and the events.
Support from the University

I have had help with everything that I've needed so far.
Advice for new International students?

Bangor seems a small town, but the university is quite big. There are many societies and clubs you can join and many new things to try. The region is surrounded by mountains and lovely landscape with plenty to do.
The Future

I am still not sure, but for now I can say that I would like to stay in the UK.