Student Profile: Matthew Mules – MSc Environmental and Business Management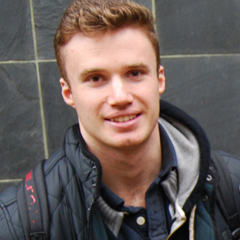 Matthew Mules
Matthew Mules is from Kenya and is studying MSc Environmental and Business Management.
Why Bangor?
There were a number of Kenyans who I knew that studied at Bangor, all of whom had a great experience both from their courses and extra curricular activities. I was particularly impressed with the quality and commitment with which Bangor treated its international students. This also encouraged me to come here as I knew I would be looked after and helped to settle in to the British education system.
Social Life…
With such a diverse range of cultures here you have the opportunity to have a broad range of social interaction with people from all over the world, broadening one's international knowledge and global perspective. Being part of the uni triathlon club has not only strengthened my athletic ability but also provided opportunity to develop new friendships and see new places.
Living in Halls of Residence…
Halls were a great way to meet people from all walks of life, spanning different age groups, cultural backgrounds and identities. Some of the closest friends I have in my life are the flatmates that I was placed with. More specifically I was put in a flat with someone from back home which meant we quickly bonded and it made life easier to have someone there from a similar background.
Bangor and the area…
It's not your usual city, it's small and quiet lifestyle make it ideal for someone looking to escape the hustle and bustle, whilst at the same time having access to all the entertainment, social life and employment that most cities have. You have the vast expanse of the Snowdonia National Park as well as Anglesey to explore plenty of outdoor pursuits.
Student support…
There is a variety of support available, stretching from careers advice through to mental health support. It ensures that each student is given the best possible opportunity to excel whilst here. No matter what the hurdle is, the university will help you overcome it.
Opportunities…
As part of my undergraduate degree I took a two-month professional placement with Natural Resources Wales. Here I gained experience of how to handle myself in a working environment by dealing with real life situations. This has been an invaluable asset to have when it comes to applying for jobs as it sets you apart from the competition.
Welcome Week…
I was apprehensive coming to a new country as the way of life is very different from that of back home. However, I felt valued and well looked after as Welcome Week promoted interaction between all the new students, breaking down many social barriers. I was met by other, older international students, which put me at ease as I knew I could turn to them if I needed anything.
Advice for prospective students…
Make sure you enjoy what you plan on studying as you will be more likely to be enthusiastic in doing it to the best of your ability. Research your course, try to understand what it will consist of so you don't get any surprises and that you know what is expected of you.
Highlights…
Sports clubs and societies promote a fertile ground to broaden your skills, not just physically but also socially. You can take part in almost anything from rugby to judo with no prior experience and be welcomed with open arms.