Student Profile: Nicola Brown – Principles of Clinical Neuropsychology MSc/PGDip/PGCert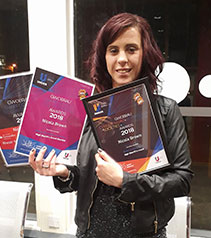 Nicola Brown
Nicola Brown is from Llanberis, North Wales and is studying Principles of Clinical Neuropsychology MSc/PGDip/PGCert. Before coming to Bangor she studied at Coleg Menai.
What made you decide to study that course?
My passion for brain injury rehabilitation.
Why did you decide to study at Bangor?
I am local to the area and I found the staff (especially Brigantia) are very welcoming.
What do you think about life in Bangor and the surrounding area?
I live in Llanberis which is stunning, we have some beautiful views.
What kind of support is there for students?
Amazing 1-2-1 support to be had at the Dyslexia Service.
Has studying at Bangor given you any specific opportunities?
Oh yes many! I have spoken at The Royal Society of Medicine recently, would have never have had this amazing opportunity without doing my course!
What advice would you give to people applying to Bangor?
Just do it! I held back due to various things, but now I have done it it was one of the best decisions I have ever made!
What is the highlight/best thing about being a student at Bangor?
My supervisors, they are amazing extremely supportive and motivating.
What have you particularly enjoyed about your course?
Neuro Clinical and Behavioural Modules where I actually took part as a participant in the Behavioural, each week someone comes in to chat about their condition.
What is the most difficult thing about being a postgraduate student?
Finding time to hang out with friends, family etc, but I do have a job and volunteer regularly so no wonder I have no time.
Have you taken part in the Bangor Employability Award?
Yes, I did last year and was shortlisted for the excellence award.
What career do you want to pursue after your studies?
Neuropsychologist.
How do you think the course at Bangor will help you?
I am being taught by the best in the business!
What will you miss most about Bangor when you leave?
Can't get rid of me that easy!