Student Profile: Sandra Williams – MSc Councelling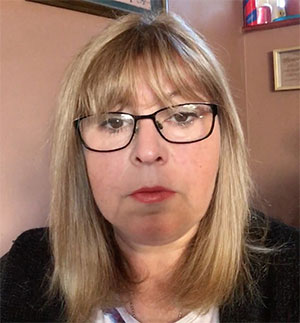 Sandra Williams
What qualifications did you take before you came to Bangor?
To be able to attend Bangor as an undergraduate I attended Coleg Menai Bangor, to study on the Social Science Access to Higher Education course. Which gave me the opportunity to a Bachelors of Honhours Degree in Psychology at Bangor.
What course are you studying at Bangor?
I am currently a master's student of the MSc Counselling course.
What made you decide to study that course?
As an undergraduate at Bangor University counselling module was a third-year module. I enjoyed this module as it gave a theoretical as well as practical skills which I was able to develop in my personal life. The Psychology department at Bangor University gave me the opportunity to learn in an environment that was non-judgemental the teaching staff are so enthusiastic in teaching you the different aspects of Psychology. I left the University with a whole new perspective and insight. And when I found out that that there was a Master of Science in counselling course was available at Bangor University, I did not hesitate in applying.
Why did you decide to study at Bangor?
I live on Anglesey and I wanted to study at Bangor because it has the advantage of being able to offer modules in the medium of Welsh. I knew that the school I wanted to learn in was one of the best in the United Kingdom. It was a lifelong dream to be able to study at University, and to be able to learn in Welsh was amazing.
Did you come to an Open Day?
When I came to the Open Day, I was surprised to see that lecturers were able to answer questions and were willing to talk about the modules that were on offer. The teaching staff were so approachable and friendly. I am a mature student and I was nervous about fitting in and how I would be perceived. I found the Open Day experience to be a positive one as I talked to a few of the lecturers I realised that people come from all walks of life to come to learn. There is no one size fits all student, and we all bring something special and unique to the learning experience.
What do you think about life in Bangor and the surrounding area?
I am from Anglesey, so I am biased, but I feel so privileged that I have grown up on the Island and the beauty that surrounds me. The views of the mountains and the scenery we have in North Wales, is beautiful. Bangor is a small city in comparison to other cities in the United Kingdom, but this is what makes it special. You get to know the area and the people quite quickly.
What kind of support is there for students?
I am dyslexic and I have found the support from the student's disability service at Bangor is invaluable. I was given support in getting a diagnosis for Irlen syndrome which has made a huge impact on my ability to study. I was unaware that I had the condition, without the support from the disability service I would not have had the diagnosis. And as an undergraduate I was able to access the support of the student counselling service, which supported me in being able to overcome the difficulties I was experiencing.
Has studying at Bangor given you any specific opportunities?
I have been very fortunate in the opportunities I have been offered. I have written a perception change intervention based on the knowledge from my undergraduate degree, and I was given the opportunity to develop my programme from the Reaching Wider team at Bangor University and the Welsh Centre for Behaviour Change at Bangor University. I also go to schools in North Wales delivering a Peer Mentoring programme for year 6 and 12 students. And these opportunities are from the direct result of my studies at Bangor University.
What advice would you give to people applying to Bangor?
The advice I would give to people applying to Bangor is expect the unexpected. You will be amazed at the beauty that surrounds you. The friendly and approachable lecturers and the most helpful and supportive administrative team. They will help you with your financial support, housing, and learning. I would suggest you come with an open mind and expect to be surprised. The level of teaching is of a Gold Standard, believe me it's nothing like my previous learning experience. I feel that I am growing intellectually well as emotionally.
What is the highlight/best thing about being a student at Bangor?
The teaching!! I cannot emphasise enough the standard of teaching that Bangor University have. Sitting in Prichard Jones Hall and listening to a lecture being delivered is something out of Hogwarts. It does have that magic appeal about it. I feel the dedication of the lecturers when they impart information, they want you to be successful they want you to reach your potential.
What have you particularly enjoyed about your course?
I have enjoyed the learning experience, the fact that we have had guest speakers from the different fields of Psychology. The practical experience of learning with the other students on the course. Being able to talk about our learning experience in the Personal Development class and use the feedback constructively. I really did enjoy our stay at our residential (which is part of the course, and in such beautiful surroundings). I have gained experience of my therapeutic perspective and gained experience of being with clients and how that feels on the work placement. I have gained skills in researching for my dissertation, statistical analysis is not my strong point, but I have gained practical skills. It's not just academically I have grown but I have learnt so much about myself. I am more reflective of my own life and my interaction with others, I am more aware of who I am.
What is the most difficult thing about being a postgraduate student?
As a mature student for me what I found difficult is balancing home commitments with my academic commitments. But this just keeps the flames of learning burning, life is all about juggling and prioritising. Keeping in mind that I am doing this for my own benefit, and knowledge, but also how my learning will benefit my children in the future. Not just for financial gain, but for their future aspirations. I hope that they see the benefit of their mother going to University will give them the fire to learn and fulfil their potential.
What career do you want to pursue after your studies?
After I have completed my course, I want to continue my journey of counselling. I would like to be an affective counsellor, and work with people who have experienced difficulties in their lives. I would like to continue to learn because of the course I am on as with any academic field of study, research keeps coming up with new and exciting research.
How do you think the course at Bangor will help you?
I have gained academic knowledge and the thirst to keep on learning. I have gained new skill sets such as reflective thinking and being able to read research papers so I can review new research systematically. I can think outside of the box and keep abreast of what is currently being implemented in the counselling field. There is so much to learn still, this is a lifelong quest and I believe I have the skills to be able to carry on learning independently.
Please sum up your experience at Bangor in 1 sentence
Unforgettable and a privilege to have been able to learn within a non-judgemental environment. Life changing for me and my children. The diversity of the school's modules is second to none.
What will you miss most about Bangor when you leave?
I will miss the unique learning environment that is Bangor. The camaraderie between other students who give you that encouraging boost, to help you pull through an assignment. And the support from the teaching faculty.
Describe Bangor in three words
Unique, Diverse, Welsh
Why did you choose to study some of your course through medium of Welsh?
I did some of my undergrad modules in Welsh because it was nice to be able to learn in Welsh and be able to communicate in Welsh.
What has been the best bit about doing that?
The module I chose was Statistics and to be able to learn in Welsh did not make the concept so alien to me. It made the learning more tangible.
What has been the biggest challenge?
Learning the Welsh definitions of statistical analysis. Which to be fair is mind blowing in English. Its just a stats phenomenon.
What support have you had from the School?
Being able to discuss with your personal tutor any problems you may be encountering and talking to the lecturers about any difficulties you are experiencing with some of the material being taught. I am able to say with complete honesty that the Student Disability service are so supportive.
What would you say to welsh speaking students considering doing part of their course through medium of Welsh?
I would say go for it. If you feel that your Welsh is not of an academic standard, you can be taught in Welsh and write your assignments in English. There is a lot of support out there for Welsh medium students.