Student Profile: Zexi Li – MSc Applied Behaviour Analysis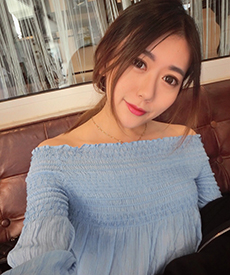 Zexi Li
Zexi is from Beijing in China. She has recently graduated in a BSc in Psychology and is now studying an MSc in Applied Behaviour Analysis.
Why Bangor?
After my Tutor recommendation I found out more about Bangor and it looked great.
Why did you choose the course?
I really enjoyed the Social science Course in HEFP which got me interest in psychology and my tutor recommended Bangor Psychology Degree as an excellent one to study. Once at Bangor ABA really interested me so that's why I went onto the MSc. Dr Rebecca Sharp's ABA lectures in my third year were a wonderful study experience in a relaxed and joyful teaching environment and I'm enjoying my MSc ones too.
Social Life in Bangor?
Good place for buildup healthier lifestyle. You could go to the gym, or jogging. Also easily to find a quiet place with beautiful sea view, to spend times a good book. I've been involved in the Chinese society and the Tennis society.
Bangor and the area...
Fresh air, sea, forest, good view, nature. A place good for a healthy student lifestyle. A place could make you inner peace and help you to focus on study.
Student support...
Friendly lecturers will help you with everything you need for your study, they are full of patience too!
What advice would you give to people applying to Bangor?
The Psychology school in Bangor uni really impressive, whether the lecturers teaching, the course, the supervisor...are all at very high level.
The Course...
1ST YEAR – Learn to be happy 2nd year - Behavioural Psychology 3rd year – ABA In my MSc ABA I am really looking forward to my research dissertation and practical experiences.
How do you think the cause at Bangor will help you?
My Undergraduate degree has given me a broad knowledge of Psychology and helped me decide which area I want to focus on (ABA). On that course, there are almost 20 professors & each of them are extraordinary, with lots of experience. There has an ancient Chinese proverb that translates as "One who stays near vermilion gets stained red, and one who stays near ink gets stained black." Which means 'One takes on the attributes/behavior of one's associates/ company.' I believe that following their guide, I will have a great chance to become a successful and knowledgeable applied behaviour analyst specialist like they are.
The Future...
I am on the MSc ABA course at Bangor which qualifies me to sit the BCBA exam. Then I want to find an ABA related job (Like the my idol Dr. Rebecca Sharp)