Student Profile: Allan Bramwell – BSc Psychology with International Experience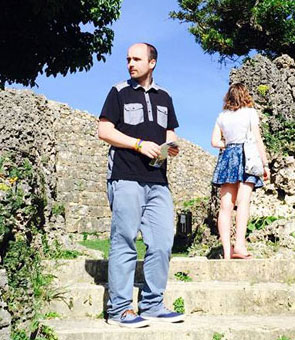 Allan Bramwell
Allan Bramwell from Newcastle is currently undertaking his international experience year in Japan.
Why choose Bangor?
I had heard many good things about Bangor University's School of Psychology. However, what ultimately sold it to me was the amazing location. The beautiful views, the mountains, the sea and nearby places in North Wales were breath-taking.
Favourite thing about Bangor?
Getting involved with Student Volunteering Bangor was definitely my favourite thing about being in Bangor. They provided me with amazing opportunities to not only volunteer on a variety of projects but also lead a team of volunteers. They helped me grow as a person and became more of a family than a group. I wouldn't change those experiences for the world.
Best thing about the course?
The thing I enjoyed the most about my course at Bangor is definitely the variety. From being given the opportunity to hold a real brain to focusing my studies towards my interests, there have been many things I have enjoyed. On top of that I had the chance to explore other avenues. For example, I started taking an evening language class, volunteering with Student Volunteering Bangor, psychology open days, being an email ambassador and taking part in many society events.
Year abroad...
For my study abroad year I am studying at Waseda University in Tokyo, Japan. I am studying Japanese which has always been an interest of mine outside of Psychology and will hopefully help me progress with my career goals.
My course has been very intense. Jumping into a culture as different as Japan has been eye opening and to have every lesson taught solely in Japanese provided a steep learning curve. Outside of classes I have been having an amazing time! I have travelled around Japan, took a holiday in Okinawa and really tried to immerse myself into the culture. Most recently I went to Tokyo Disneyland where my dreams definitely came true.
As someone who suffers from anxiety it has been a challenge coming to one of the world's biggest and busiest cities. I think that pushing myself into this situation has definitely helped me grow as a person. I am getting very good at conversational Japanese and have met a lot of Japanese people.
Did the University help you prepare for your time abroad?
Before coming to Japan I had many chances to speak with the International Department and they were always happy to answer my questions. Outside of my degree I was taking evening classes in Japanese in which I learnt the basics needed for survival. I'm very glad I had that opportunity at Bangor as it came in handy from day one!
Highlights of the year in Japan...
There are so many to pick from. Although I would have to say that my time in Okinawa was the best. Exploring the culture, food and meeting local people was fantastic. I got to experience new music, new water sports and new food and even discovered that Okinawa has its own language. I definitely want to go back!
Plans for the future?
My next step is to gain some teaching experience and if I can stay in Japan for that I'll be very happy. Once I have some real life teaching experience I want to continue my psychology focus in educational psychology and study further.