Student Profile: Charelle Tilley – Midwifery BM (Hons)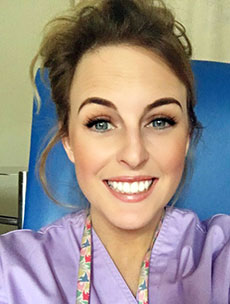 Charelle Tilley
Charelle Tilley, is from Rhyl and went to Rhyl High School. After she did the Access To Higher Education course in Llandrillo college before coming to Bangor.
What made you decide to study that course?
Midwifery is a passion of mine so I just knew I wanted to study it.
Why did you decide to study at Bangor?
It was the most welcoming university out of the ones I had looked at, with friendly staff and a warming atmosphere... and a bonus that it's close to home!
Has studying at Bangor given you any specific opportunities?
It has given me the opportunity to go on elective placements for two weeks each year to visit places I would never normally go too and observe midwifery practice all over the world.
How did you find welcome week in Bangor?
Welcome week at Bangor was fantastic. There were lots of opportunities to meet people from different courses and plenty of events to attend. The staff and peer guides were so welcoming and made the first few weeks, which can be so daunting, really fun.
What advice would you give to people applying to Bangor?
Just do it!! Not only is Bangor a beautiful place but the university is great with supportive staff and great lecturing teams.
What have you particularly enjoyed about your course?
My favourite part of the course I am studying is our placements and the opportunity of elective placements. The placements offer lots of variation to see all aspects of midwifery and the elective placements offer the chance to do things you would never normally do!!
Hobbies?
I have always had a passion for music and performing. Before starting my midwifery degree, I was in a girlband for 5 years where we toured the country performing and recording songs. Although it was incredible, it was a busy lifestyle but this allowed me to learn the skill of organising my time properly in preparation for my degree. When I started midwifery, everyone said I would probably have to give up hobbies and things that I loved as I wouldn't have the time to balance everything. This is definiately not the case; in fact, during my second year of training, I auditioned for and landed the lead role in Fame The Musical with my Musical Theatre company Powerplay which I managed to balance alongside my degree. It is my release from studying and everyone needs a release, so it is so important to make sure you have other interests aswell as your training. It can be done and it is so necessary!
What career do you want to pursue after your studies?
A long and happy career as a successful midwife