Student Profile: Eleanor Randall – Zoology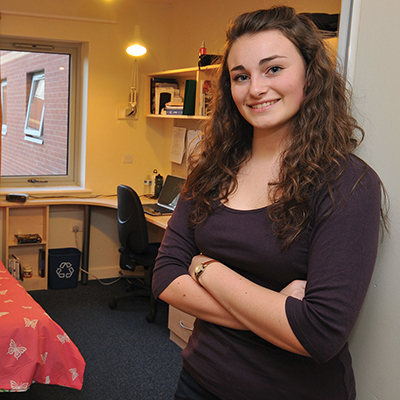 Eleanor Randall
Eleanor Randall is from Trearddur Bay, Anglesey and is studying Zoology.
Why Bangor?
After visiting Bangor on an Open Day it gave me a real sense of student life and what the course entailed. I looked forward to the opportunities I knew Bangor could offer, like studying abroad.
Open Days…
I came to more than one Open Day and it really helped me imagine my life as a student living in Bangor. The days were very organised, informative and helpful and all staff and students were willing to help with anything and were very friendly.
The great thing about Bangor is that there is something for everyone, with hundreds of free societies to join. I'm secretary of PhotoSoc (Photography Society) and it's really helped me improve my skills as well as meet a variety of people and go on many trips. Societies are a great place to meet people, and there's no limit to how many you can join!
Halls of Residence…
Living in Halls was a fantastic experience that I recommend o any student. It's like being in a bubble, surrounded by hundreds of other students from all kinds of different backgrounds. It's a place where you can meet people who become lifelong friends. It also has great access to the town centre and is a hub of activity.
Bangor and the area…
Bangor is one of the best university locations with so many opportunities for sports and activities thanks to the closeness of the mountains and miles of coastline. It offers societies the chance to visit great places, and in Welcome Week you get the chance to go on day trips to see the area. Biological Sciences take first years to the beach for some fun, ice-breaker activities.
Student support…
Every student is assigned a peer guide when they begin university. I became a peer guide this year and it was great fun. It gives new students someone they can contact about anything.
Opportunities…
I am travelling to Florida as part of my zoology degree, which I'm very much looking forward to. Joining societies and studying has increased my confidence and independence.
Welcome Week…
The first week was busy and exciting, full of opportunities to meet new people and ice-breaker activities. It gets you involved and included in events, which helps when you've just moved away from home.
Advice for prospective students…
I have gained so much and grown as a person since applying to Bangor. University life has provided many opportunities and allowed me to meet some amazing people from across the globe.
Highlights…
There isn't just one thing that's great about living in Bangor as a student. The overall student life is a fantastic experience that I would recommend to anyone.