Student Profile: Elliot Goddard – BSc Product Design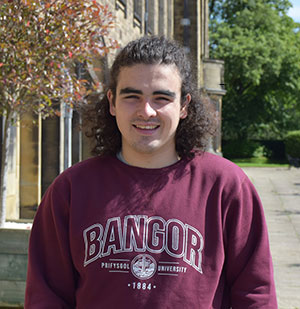 Elliot Goddard
Elliot Goddard is from Nelson, Caerphilly in South Wales. Before coming to Bangor, he studied at UWC Atlantic College in Llantwit Major.
Why Bangor?
After I left school I wanted to study architecture or product design, but after completing a period of work experience at an architect's, I decide that I preferred Product Design. I saw that Bangor had a Product Design course, and I knew that the University was a 15-minute drive from Snowdonia. It has everything that I love - surfing, kayaking, climbing and cycling, all with like-minded people.
The course …
What I love about Product Design at Bangor University is that we have very knowledgeable lecturers with industry experience and also that we have a 7-9 week placement every year, allowing me to specialise in the specific industry that interests me.
Clubs and Societies
I am the Captain of the Bangor University Canoe Polo team and I was the Publicity Co-ordinator for the Christian Union.
Living in halls…
I lived in halls for my first year, and it was very convenient. It is the prime location to meet people, get to lectures and have a free gym pass! Definitely worth it!
Best thing about Bangor…
I love the people and the place. It is a very outdoor-sports-driven area, with so many people that are passionate about exploring and enjoying nature.
Highlight
I was selected to participate in the British Universities Kayak Expedition 2019, where, along with six of the best university white-water kayakers in the UK, I will kayak remote rivers in the Russian Far East.
Bangor University student to embark on kayak trip of a lifetime
When you leave Bangor, what will you miss?
I will leave Bangor in Summer 2020. I will definitely miss this small city, which has everything you need, but without the crazy and overcrowded areas.
Future plans…
In the future, I plan to travel the world, gaining experiences and, hopefully, gain a job in outdoor equipment design, and then to start a family and settle down somewhere.