Student Profile: Francesca Sciarrillo – English Literature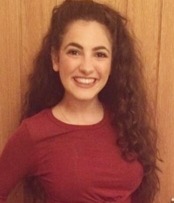 Francesca Sciarrillo
Francesca Sciarrillo is from Mold, Flintshire in North Wales and is studying English Literature.
Why Bangor…
My school promoted an Open Day. Due to the exceptional organisation at the Open Day in comparison to the other University Open Days I had previously attended, in addition to the departments welcoming atmosphere and the vast range of module choice available in comparison to other English Literature departments.
Open Day…
I attended an Open Day, in which I was able to see a tour of Bangor as well as the student accommodation. In addition, I got to know members of staff in the department and see the library (which was the selling point for me!!), I received all the information I needed by visiting the Open Day and enjoyed talking to staff and students about what it was like to study and live in Bangor.
The course…
The best thing about the course is difficult to pin down. This is because there are so many different aspects of the course and department that make it such a unique and wonderful experience. I would have to say the wide range of module choices has been brilliant and probably my favourite thing about the course. Having the choice of Medieval Literature right the way up into Contemporary Literature, with even contemporary poets visiting the university has been such an exciting part of studying in Bangor. I also really enjoy staff and student events such as 'Wine and Words', where we have the opportunity to read poetry and socialise with the department.
The highlight of my course so far has been developing my own writing skills and being able to study all different time periods and genres. I particularly like the fact that modules are available to look specifically at Welsh Literature in English, or Literature from all four nations.
The academic school…
The department itself cannot be faulted for their welcoming and enthusiastic attitudes. Every member of staff is actively doing their own research and therefore what they teach, is always exciting and drawing upon their own area of expertise. They are always very friendly and approachable, learning everyone's names, which makes you feel part of the department. As a Course Representative this year, I have also had the opportunity to attend student and staff meetings where I can give feedback to the staff about what the students enjoy. The staff are always keen to implement any suggestions the students have, in order to make the course as enjoyable as possible.
Halls…
I lived on the Ffriddoedd Site in my first year and thoroughly enjoyed this experience. The location was great as it was not far from the Main Arts building and it felt like a student community so there was always something to do!
Clubs and societies...
I am a part of the University's newspaper 'Seren' where I write book reviews each month which is really, really fun!
Social activities...
Socially, Bangor is a great place to be. There are so many different clubs and societies to get involved with, in addition to the location itself. Train and bus services allow you to travel around North Wales, which has been really enjoyable. Pontio always has something going on. Personally due to my own love of theatre, I really enjoy visiting Pontio to watch plays, both local and touring.
Best thing about living in Bangor…
The best thing about living in Bangor is most certainly the beautiful location. Having the sea on one side and the mountains on the other is wonderful.
What will you miss...
Definitely the course, but also the location!
Support...
Support wise the university is amazing. On my course I have a personal tutor who I can go and see if I have any issues, in addition to the other members of staff who are always ready to help. Even in terms of doing the work, the university has a writing centre to visit to help.
The future…
I plan to continue on at Bangor University to complete a Masters in English Literature. The past three years have enhanced my love of Literature, due to the staff's enthusiasm and passion for the subject. They can't get rid of me!
Watch Francesca's My Life at Bangor video below ...