Student Profile: Gwen Rees – Adult Nursing BN (Hons)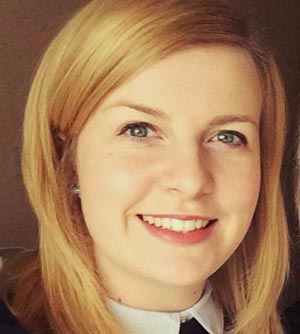 Gwen Rees
Gwen is from Ruthin and a 3rd year student nurse at Bangor University's Wrexham Campus.
Why Bangor?
Before starting to study Nursing, I attended Ysgol Brynhyfryd in Ruthin, where I studied A levels in History, Music and Religious Studies, which have nothing to do with what I'm doing now! One day, a teacher at school told us to research into potential universities and degrees, and I remember Bangor University catching my eye. I have had an interest in hospitals and the emergency services from a very young age, and seeing the Adult BN Programme on the university's website immediately drew my attention.
Studying at the Wrexham campus...
Initially, I applied to study at Bangor itself and planned on moving into halls of residence. However, it was suggested to me on the day of my interview that I studied at the Wrexham campus as I could commute every day. By now, I am glad that I chose to do that as I have saved a vast amount of money and it is much easier when out on clinical placement. Although my first language is Welsh, I decided to study my degree through the medium of English as I thought it would be difficult to translate when referencing and learning clinical terminology. However, I am lucky to have a Welsh speaking personal tutor, which is very helpful if I need any help or support. I also feel that being bilingual is an important asset, especially when dealing with patients.
The Wrexham campus provides an outdoor sports club for students every Wednesday where people can try new activities and the Nursing society is a lovely group of which to be a member. The Nursing Society Christmas Ball is always a brilliant evening to socialise with other student nurses on the campus. As there are only healthcare science students on the Wrexham campus, I believe that this makes the place homelier as we are all on similar courses. We also have common modules with other students such as radiographers and child and mental health nurses, which is enjoyable as we learn with different people who specialise in different subjects.
I feel that it's easy to ask for support at the Wrexham campus. The campus library has great facilities and an excellent team who will offer any kind of help with your studies. Peer guides are also a great help, and provide reassurance, especially in your first year when everything is new.
Recommending Bangor University...
To anyone thinking of applying to Bangor University, go for it. It's definitely the best decision I have made and I feel that the course I am undertaking is totally worthwhile. The fact that the course is 50% theory and 50% practical makes it feel easier as you feel like you are applying what you have learnt in lectures to clinical placement.
Placement...
I thoroughly enjoy going out on placement – it's such a great experience, although it can be very daunting at times, moving around and working in totally new environments with totally new people! You have a wide range of experiences in different specialities and it's lovely to make friends with nursing staff on placement and keep in touch. Once you put on your purple uniform, the public see you as a member of staff and staff treat you as part of their team which is such a good feeling. The course has definitely raised my confidence levels, especially after being in such different environments on placement and also, giving presentations in front of the class.
What I will miss...
The three things I will miss most after leaving will be my fellow student nurses, the laughs and fun we have in lectures, and the homely atmosphere between students and lecturers.
The future...
I have 9 months to go until I qualify to be a Nurse, and I can honestly say the last 3 years have flown by and reality has hit me! I hope to have a job in an acute hospital in North Wales and find my ground in a speciality that interests me.