Student Profile: Haikal Subahan – BSc in Psychology with Clinical and Health Psychology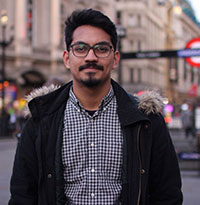 Haikal Subahan
Haikal is studying a BSc in Psychology with Clinical and Health Psychology, and is originally from Singapore.
Why Bangor?
Because it was beautiful as compared to other places and its got a great reputation for Psychology.
Why the course?
Wanted to discover how the world works in depth.
Bangor Social Life...
I was involved in Boxing since first year up until semester one of 3rd year due to focusing on more work related stuff. The Clubs are free to join and I made lots of friends.
Halls of Residence
People were always connected to each other. Everyone knew everyone. Most importantly, everyone was friendly and I had a great time.
Support for students
I have an international tutor in the School of Psychology who supports me academically and there are plenty of other people who could support me with other issues if I had any. There's always someone to help.
Bangor Welcome Week
There is always someone who would strike up a conversation and making friends here was easy. The staff in the university were very helpful in settling the students and we also had student buddies to help us find out what was happening.
Advice for prospective students...
No regrets so go ahead and apply although it really differs here as compared to a city area, the environment and people makes up for everything.
Best part of the course?
I was given the chance to go to local schools and assess children for my dissertation data collection. Also, we got to handle a real human brain in a Brain Anatomy session. Amazing experience!
The Future?
As I am planning to take the Msc in Counselling after graduation, this course has brought me one step closer to pursuing a career in counselling. I want to become an established counsellor hopefully.