Student Profile: Harriet Glenn – Midwifery Alumni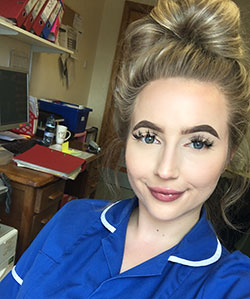 Harriet Glenn
Harriet Glenn is originally from Colwyn Bay. She graduated with a degree in Midwifery.
Why Bangor?
When looking at different universities, placement opportunities were really important to me. Other universities I had looked at only provided placements in big hospitals whereas Bangor gives you the opportunity to work in different types of working environment. I had placements in some really amazing maternity units, as well as in community units and in rural and remote settings in different parts of the country. It gave me more exposure to different working environments and I feel like this gave me versatility and confidence starting my career in a large inner city hospital.
What things did you enjoy most about studying at Bangor?
Bangor has something for everyone. It's set in beautiful coastal countryside if you're into the outdoors but it's also only a 2 hour drive away from big cities like Liverpool and Manchester. Bangor itself is a great place to live, there's plenty of university and private student accommodation and everything like shops, pubs, clubs, gyms and libraries are in waking distance from the university.
Has studying at Bangor improved your job prospects?
Studying at Bangor improved my job prospects massively and gave me advantages over other applicants going for the same job as me. The School of Healthcare Sciences took extra steps to ensure that we qualified with more skills and knowledge than were required of us by the Nursing and Midwifery Council, setting us apart from other job seekers. At my first ever job interview I was offered a job on the spot.
Career...
I remember feeling like the Clinical Skills Passport was a burden because it wasn't an NMC requirement, but looking back I think it was one of the most important parts of my training. Qualifying with those skills under my belt meant that I was a more autonomous and independent newly qualified midwife, than newly qualified midwives from other universities. It also meant I was able to self-certify for preceptorship skills like perineal repair, enabling me to take 6 months off my preceptorship period and step up to a band 6 post sooner than my band 5 colleagues. I was asked by management to teach a suturing session and I now lead the perineal suturing study days for the hospital. I have also just started in post as a continuity team midwife for young parents, which was my aspiration throughout my training. I couldn't have got here without the support from the school and the lecturing team at Bangor, thank you!