Student Profile: Jade Swift – Midwifery BM (Hons)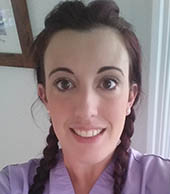 Jade Swift
Jade is a 2nd year Midwifery student at Bangor University, and lives in Rhyl.
Why Bangor
Close to my home.
Bangor and the area
The university is situated in a beautiful part of the country.
Advice for prospective students
Bangor is a great university in a beautiful part of the country with lots to do socially and places to explore.
The Course
I enjoy all aspects of my placements but my favorite area is community. I love working closely with women and their families within the community and their own homes.
Support for students
As well as support from tutors there is also support from peers from different cohorts which I have found very useful throughout the past two years at Bangor.
Best thing about Bangor
Meeting new people and making some lifelong friends.
The Future
To be a midwife in the community once I have gained some experience and confidence post qualifying.
Read Jade's Day in a life story as a student at Bangor...