Student Profile: Jennifer Light-Hook – Primary Education with QTS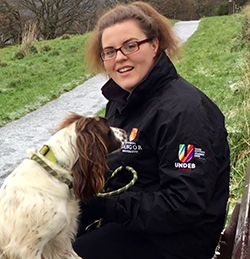 Jennifer Light-Hook
Jennifer is from Chepstow and is studying Primary Education with Qualified Teacher Status. She attended Gordano School in Portishead before she came to Bangor.
Why Bangor?
I loved the idea of studying in such a beautiful part of Wales and I wanted to learn Welsh along with my degree, and Bangor has a really good Primary Education course. I also wanted to be far away from home so I could be truly independent!
Living in Halls?
I lived in halls on the St Mary's Village during my first year, and after the stresses of private accommodation in my second year, I returned to halls for my third year as it turned out to be easier, safer and cheaper too - plus I love the free gym membership!
Clubs & Societies
I'm on the committee for Dog Walking Society, and attended Craft Society in my second year which was such a good place to relax and unwind.
Best thing about Bangor and the Social Life
I love being so close to Snowdonia and beautiful beaches such as Newborough, it's great to get away from the stresses of assignments and just get outdoors! I know that's a typical student thing to say, but I see myself as a social butterfly, I absolutely love how every time you go out - day or night- you'll see someone you know! It's such a small city that everyone knows everyone, and I love that! Everyone is so friendly, and the local residents can't do enough to help you.
Work Experience
I do eight weeks of placement a year, teaching in primary schools across Wales to work on my professional development and work towards gaining Qualified Teacher Status. I particularly loved my second year placement - I'm animal mad, and the school had hundreds of chickens and its own zoo of lizards, tortoises and bugs!
I've had the opportunity to do an alternative placement in a secondary school for boys with behavioural issues back home, and I loved the challenge which was incredibly rewarding. I'm currently employed by B-Enterprising Bangor as a Social Media and Events Intern, and I love it! I get to help promote so many amazing opportunities, one of these is Student LifeStart, a Virgin Money/Virgin StartUp initiative, for which I am an ambassador. I also run my own pet services business called Paws & Claws; I do this at home during the Christmas, Easter and summer vacation. I'll have run it for 4 years in January 2018!
Opportunities at Bangor
I've had so many opportunities, and I've tried to take as many of them as possible to make the most out of university. I've walked dogs in beautiful Snowdonia with my society, I've visited the Manchester Christmas Markets with Campus Life, I've been to the amazing Bounce Below, I've taken up a University internship, I've been on the Dog Walking Society Committee for 2 years, I've become a LifeStart ambassador, I've travelled to Poland with my course mates, I've done an outdoor education course in Treborth Botanical Garden. I've done so many extra-curricular things, all because I promised myself to just say 'yes'. It's paid off completely and I genuinely feel I've had such a good time at Uni, I'll be sad to leave Bangor!
Future plans
I plan on completing my Newly Qualified Teacher year, but I'm tempted to expand my enterprise skills and open a dog café in the Wye Valley. I've written my business plan and I'd love to do it eventually, but I feel like I should complete my NQT year whilst teaching is still fresh in my mind!
Related stories
Bangor University students get ready for the LifeStart challenge