Student Profile: Jessica Fox – Marine Biology and Oceanography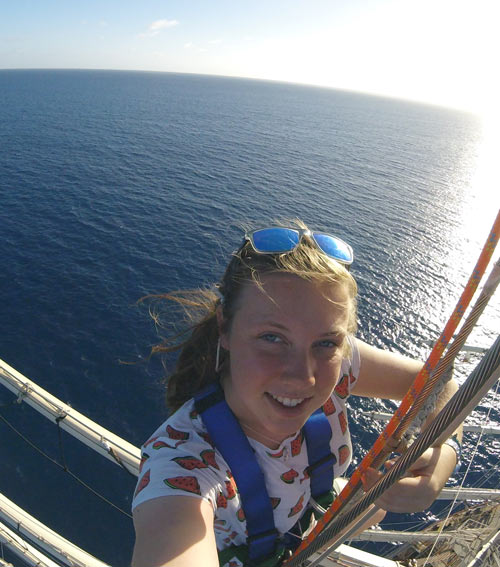 Jessica Fox
Jess Fox, 19, from Alne (near York), North Yorkshire is in her first year studying for a BSc (Hons) Marine Biology and Oceanography degree.
Why Bangor?
I found out about Bangor whilst looking at places offering this course through UCAS. Bangor is very well-known for its excellence in many things but particularly Marine Biology, and it was through coming to an open day that made me certain I wanted to study here.
Open Day…
I came to two open days! The first time was a generic University open day which both my Mum and I attended. From almost the first moment we walked through the Main Arts doors in the morning we knew that this was going to be the place for me. As the day went on it just got better and better – particularly when we got to visit the
School of Ocean Sciences
. The lecturers were bursting with enthusiasm for their topics which was contagious to the crowd and from that day on, it was concreted in my mind that I wanted to study here. The second open day was purely for prospective Ocean Sciences students, to which I went to alone. My excitement for the thought of studying at Bangor was greatly increased and that was the very beginning of my Bangor career.
The course…
The course is absolutely brilliant and I'm loving every aspect of it. The first semester was definitely more marine biology-based and second semester more oceanography. The practicals are undoubtedly my favourite part of the course – the things we get to learn are fascinating and the lecturers are so enthusiastic which makes it even better! Field trips are equally great, and the lectures themselves provide the background knowledge required to fully appreciate and analyse what you're seeing in the field and in the labs.
Highlights so far…
We had a report project to complete back in semester 1 about the common cockle,
Cerastoderma edule
, which meant we all had to get up early and be on Traeth Melynog beach on Anglesey by 08:15 on a chilly but very beautiful Friday morning! We collected cockles at different locations on the beach and then took them all back to the labs in Menai Bridge for analysis. A full day doing practical work is the best and I'd say that's been the highlight so far.
Clubs and Societies…
I am heavily involved with the squash club and am in the Bangor Ladies Squash Team. I am also a pianist for the Bangor University Jazz Band which I really enjoy, and I've done a few bits and pieces with the hockey club and sailing society too. One of the great things about Bangor is there's so much on offer, but it can be it hard to choose!
What social activities do you enjoy?
The majority of people at Bangor have a sense of adventure, with the mountains and the sea being so close. There's a small group of us who love going surfing, climbing hills and mountains, going for walks to Church Island by Menai Bridge (there are amazing rock pools there) and taking my camera with me when I go for a walk. It's hard to take a bad photo around here. One of my good friends, Helen, and I went up to Pen-Y-Pass in December for 05:30 and walked up to the Llanberis Pass in time for sunrise over the lake – just stunning! We sat there in the freezing but silent, crystal-clear air eating bacon sandwiches for breakfast. There's nothing as good as an early-morning adventure!
The best thing about living in Bangor…
Everything is so close and you all end up knowing so many people and having loads of mutual friends, so it all links and connects really nicely. On a night out everyone finishes in the same place so you're constantly bumping into people you know! It's a stunning place to live and I love it.
University support…
The University offers so much support, the peer guides have been amazing and overall so far it's been an incredible experience.
Plans for the future…
In May 2018 I will be sailing on a Dutch tall ship called "Europa" as a budding marine biologist and oceanographer – carrying out research such as recording sea surface temperature, salinity and plankton diversity on our passage south-to-north. I will be giving talks to the crew on marine biological and oceanographic topics, and also helping two environmental scientists (who will also be sailing on board) carry out their research on plastics in the ocean. I join the ship in Cape Town on 15th May and we will be sailing up to the town of Horta in Faial, the Azores, stopping at St Helena (still without an airport!) and Ascension Island en-route; we are due to arrive in the Azores after our 54-day voyage on 6th July. With a background in tall ship sailing and a passion for the oceans, this is a dream come true. In fact, it was my first ever voyage on a classic sailing ship called "STS Lord Nelson" (STS = Sail Training Ship) back in 2014 when I was 16, that seriously inspired me to study the seas and all the life within. After my degree, I'm not too sure but I have lots of ideas. Working in the Polar Regions really appeals to me – perhaps on the new research vessel "Sir David Attenborough" for the British Antarctic Survey, or going into another line of practical research in the field. The key word being 'research' – I'd love a job that takes me travelling around the world!