Student Profile: Jiri Benacek – Msci Psychology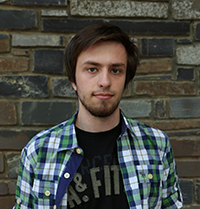 Jiri Benacek
Click here to read a Czech profile of Jiri.
Jiri Benacek is from Prague in the Czech Republic. He is studying for an undergraduate masters degree (Msci.) in Psychology.
Why choose Bangor University?
Bangor University initially caught my attention because it offered Undergraduate masters course in Psychology and because of its good ratings on various ranking tables and surveys. The other thing that helped me when deciding was its beautiful surroundings with Snowdonia and sea just within the reach.
The International Student Ambassador scheme
International student ambassadors are here for the international students, be it prospective students, newcomers, or already established individuals. We are here to ensure that all the internationals will feel comfortable in their new life here by warmly welcoming them, and then by organising various events and trips throughout the year.
The reason why I joined was, that wanted to help people feel comfortable in Bangor. I know that the transition might be rough sometimes, especially so for us internationals.
What is the most difficult thing about being an international student?
This depends on where you are from and how well you cope with changes. Some people are not affected at all, and for others, the culture shock might be immense. However, for most, it is a collection of small, slightly different things like the unfamiliar architecture, food, and even bus stops. It is not too different, but at the same time, everything screams that you are not home anymore. The places you used to frequent might now be thousands of kilometres away and it is a strange feeling.

Another thing worth mentioning is the language barrier. Even if you were the best speaker in your class back home, you'll probably struggle to find the right word from time to time; you'll feel clumsy. None of that is pleasant and it might be hard for you at the start of your studies. Just remember that you are not alone in that, and that locals are extremely patient and understanding.
Also, all these things will pass in few days/weeks. Do not be afraid to make mistakes, we are here to learn. Embrace the strangeness!
The course
Psychology here is excellent. The course is mostly research-oriented so that means that you will participate in many interesting research projects and you will see how it is done from both sides - as a subject, and later, even as a researcher.
Sometimes, it can be challenging, but it is absolutely worth it. In my first year, I got to hold a human brain in my hands, and in my second year, I have been learning Behavioural Psychology on zombies (I am not even kidding!).
Bangor is a small town. This gives the School a unique opportunity of maintaining the sort of family atmosphere that other schools claim to have. Every lecturer and all the staff I met have been supportive and nice. You are not afraid of contacting anybody because you know they will be happy to help.
Social life in Bangor
The thing that really amazed me when I first came to Bangor was the great number of sport clubs and societies the university offered. I am a member of Mountain walking club which gives me a chance to not only explore the ever-so-beautiful Snowdonia, but even meet some wonderful people. Other than that, I got to try archery, played squash and jumped on trampolines. Who knows what comes next… maybe surfing?

But even if sports are not your thing, Bangor offers many societies where one can meet people with whom they have something in common. A perfect example of one such society is a local International Students' society, where you can meet other internationals and learn about their cultures. Every club and society here organizes (usually) weekly socials and occasional themed events. However, sometimes Bangor can be a quiet town – then you'll need to make your own noise! … figuratively speaking, of course.

I can only recommend being open to new people and experiences; you'll always have something to do.
The best thing about Bangor?
Peace and quiet, beautiful environment and great people. I came from a big city and I was terrified of moving into smaller one. Although I miss some things, I can say that most of my fears were unfounded – Bangor is a great place to be!
The university is situated in one of the most beautiful parts of the world – it is the kind of place where people go for their holidays. Once in a while, it is great to travel and explore this place with a group of friends.
What will you miss most about Bangor when you leave?
I will miss the fact that everything I need is 15minutes-walk away.
Support from the University
Everybody here is really supportive and ready to help. The university has very good Students' Union and I also really appreciate that one of the first things they did when I started my studies was assign me a personal tutor, a go-to person who will do their best to help with anything. There is an accessible place for every question you might ever have.
Advice for new international students?
Don't worry if you are afraid - I know I was and I am fine! If you have any questions, contact somebody. Like me, for example.

Oh, and also: Pack sturdy shoes.