Student Profile: Julius Muyombya – BA Business and Law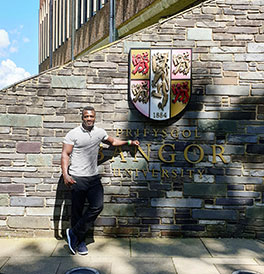 Julius Muyombya
Why Bangor?
Out of nearly five universities that offered me sponsorship, I chose Bangor University for three reasons.
I wanted to stay in north Wales where I had friends who supported me since my first day at St David's College, Llandudno.
I was told by former Bangor University students about the quality of student services such as societies, libraries, finance and international support etc. I felt that Bangor University would satisfy my student needs and I would gain independence to flourish. 
Bangor University is located at one of best and stunning locations in the UK. Having access to a beautiful natural environment with spectacular features such as mountains, lakes, rivers and many activities to get involved in helps students settle in the community quickly.
During difficult periods, especially the exam period, I would get so stressed, but evening walks and runs in the countryside helped me so much to overcome these difficulties. I believe this could not be possible if I was studying in big cities like London or Manchester where open space and fresh air is limited due to congestion, pollution and urbanisation.   
Work while studying...
I worked as a part-time Door Man at the Cube night club, Harp Inn and Star Kebab shop every weekend. This was difficult initially because I was struggling to get adequate balance between studying, social life and work. However, over time I gained time management skills which helped me to stay on top of everything. As a result, I was able to attend every single one of my lectures, attend gym for at least 2 hours each day, go to library and study for 5 hours each evening, Monday to Friday. Overall, I was able to gain work experience and other skills whilst studying.
Student experience...
During the end of first semester in the first year, I got an opportunity for a shadow placement at Freshfields, an international law firm in London, for 3 weeks.  
I was the president of Enactus during 2017/18. Enactus is a community of student, academic and business leaders committed to using the power of entrepreneurial action to transform lives and shape a better world.
When I started at Bangor University, I was struggling with academic referencing. I got all the help I needed from the academic support and course representatives. Additionally, I was inspired to become a Peer Guide and Course Rep to give new students support to overcome new challenges they might face both in social and academic life. 
Highlights...
My main highlight was representing Bangor University at the Enactus regional and national finals in Cardiff and London where we were presenting our projects and competing against other universities.  
The future...
My long-term goal is to get a job with the aim of raising money to use as capital to invest in sustainable businesses in Uganda. I believe that these projects will empower many young people to develop skills they can use later on in life.