Student Profile: Laura Thomas – Midwifery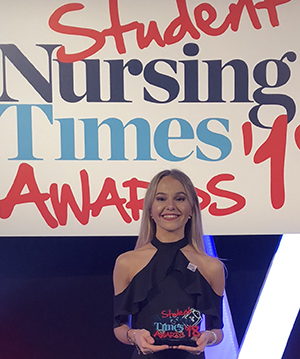 Laura Thomas
Laura Thomas is a born and bred North Walian from a little village called Rhewl, Mostyn. Before attending Bangor University, she spent her primary school years at Ysgol Bryn Pennant, Mostyn and secondary school years at Holywell High School (now Ysgol Treffynnon).
Why Bangor?
The interview process at Bangor was the friendliest and most relaxed one I had ever attended! And of course, to stay local and patriotic to the gorgeous North Wales area.
What made you decide to study that course?
It's all I've ever wanted to do since being a little girl. This is the hardest question to answer and it doesn't get easier even when it's been asked a million times! My godmother is a midwife and she delivered me 21 years ago so, I can only say it has all stemmed from her wonderful passion and enthusiasm.
What is the social life like in Bangor?
In terms of societies, everyone who joins the midwifery course at Bangor are automatically joined as a member of the Student Midwife Society. I was lucky enough to be elected in my 2nd year as social secretary, being the only one from my year on the committee with the rest of the members being from the year above…scary! The society has helped me grow in confidence and as a person, leading then for me to be elected as chairperson of the society for my 3rd year! I am very proud of our society for all of the hard work and effort everyone puts in to organise and run successful study days, conferences and fundraising events. Over the last 7 months, we have raised over £600 for our chosen charity of the year 'The Lullaby Trust'.
What is it like living in Halls of Residence?
Coming straight from school to university made me want to experience the full university life so I decided to stay in halls for the first year of my training. For nurse and midwives studying at Bangor, there is separate block of halls from all other students studying other courses. This was a great idea as we were all going out to placement at different times, including nights so it meant it was much quieter for us to sleep without the loud partying! Being in halls also gave me amazing friends for life, they may have all been studying nursing and not midwifery, but we all understood each other and the hard times and difficulties that such a full on course comes with. I will be friends with my "flat fam" forever and thank them for all of their support!
Has studying at Bangor given you any specific opportunities?
Studying at Bangor has given me a million opportunities! I always do my utmost to seek out extra opportunities and the School of Healthcare Sciences have always been extremely supportive. We are offered 2 weeks of elective placements a year to study further. For example, I was lucky enough to be selected for the Council of Deans' Student Leadership programme, I also spent some time with BPAS in Chester to widen my knowledge and experience. And of course, all of these opportunities lead me to be shortlisted and awarded the Student Nursing Times' "Student Midwife of the Year" award across the UK!
How did you find welcome week in Bangor?
Welcome week (From what I remember!) was one of the most funfilled, crazy weeks ever! During that one week I met so many wonderful and inspirational people from all different backgrounds and aiming for great things in life! Being the youngest member of my cohort (only 4 weeks after my 18th birthday!) was such a scary experience but, welcome week flipped that feeling on its head and made me feel so included and welcome with every other member of the healthcare sciences school.
What advice would you give to people applying to Bangor?
Go for it, you won't regret it! Everyone is so friendly and although it may not be a huge city experience, there's great nights out to be had and wonderful scenery when you just want to relax!
What is the highlight/best thing about being a student at Bangor?
Making a whole new load of friends for life! Their support has been incredible and it feels like we have all known each other forever, definitely a life changing experience.
What have you particularly enjoyed about your course?
The most enjoyable part of the course definitely has to be having the opportunity to spend 50% of our time out in clinical placement, whether that be in a community area or within the maternity units across North Wales. Learning on the job and being able to relate the theory we learn to underpin the practice is such a huge privilege. Being able to work alongside extremely experienced midwives and be supported by such amazing mentors just makes the course even more fascinating.
What career do you want to pursue after your studies?
I think it goes without saying…a midwife! For now I wish to start out with the basics, complete my preceptorship and mentorship programmes and then eventually work my way up to wherever my aspirations will take me!
How do you think the course at Bangor will help you?
The midwifery course at Bangor has completely set me up and prepared me to the best for when I get a job and I'm out there on my own, supporting all the wonderful women and their families that I will come across on my journey.
What will you miss most about Bangor when you leave?
The amazing opportunities that Bangor has allowed me to have and all of the fantastic people I have met and friends I have made! My time at Bangor will never be forgotten and will always be remembered as the foundation of my dream career into midwifery.