Student Profile: Lauren Oates – Learning Disability Nursing BN (Hons)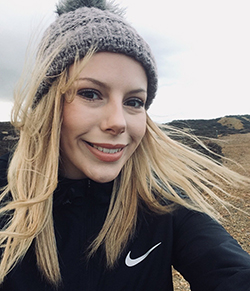 Lauren Oates
What made you decide to study that course?
Whilst studying Art & Design, I was able to be a part of a teaching and learning session based on art for individuals with learning disabilities. It was incredibly rewarding being a part of the teaching and learning process. From then on I started to look into careers which would involve working alongside individuals with a learning disability. It was then that I came across Learning Disability Nursing.
Did you come to an Open Day? What impressed you most?
I attended one of Bangor Universities Open Days. I was really impressed with the amount of support available for Learning Disability Nursing students. The cohort wasn't massive and it was evident that the tutors would be there to support you throughout the three years.
What is the social life like in Bangor? Are you involved in any societies or sports teams?
The social life in Bangor is really good. The University has so many different societies and sport teams available for anyone to join! It is a really good way of getting to know other students too and make new friends. It's really important to have a separate hobbies alongside your Degree.
What kind of support is there for students?
There is so much support available for students. The University provide Student Support Services. There are drop in sessions, and you can also book set appointments if you ever feel you are struggling with specific modules/assignments. They also have a range of different study skills sessions. There is also a lot of opportunities to speak to your personal tutor whenever you may feel you need extra support with any assignment.
If you enroll onto the Learning Disability Nursing degree there is a lot of supervision opportunities when you start your placements. You have support off your set mentors, there are set tutors to keep in contact with you whilst you are on your placement, and you can also gain support off your personal tutor if you feel more comfortable talking with them.
What advice would you give to people applying to Bangor?
Come to one of the open days and speak to the tutors who run the course you are interested in. It is also good to put a face to the course you're wanting to study.
What have you particularly enjoyed about your course?
I have thoroughly enjoyed all of the modules on the Learning Disability Nursing degree. A lot of the modules teaching and learning is around enquiry based learning and it has helped me to gain confidence working within a group and presenting in front of people. These methods of working are all extremely important skills needed to become an LD Nurse and I definitely feel more prepared for when I qualify next year!
How do you think the course at Bangor will help you?
The placement opportunities are so diverse at Bangor University that the experiences you gain from them become a huge part of the process when applying for posts once registered as an LD Nurse. The opportunities also help you to pinpoint where exactly you would like to work.