Student Profile: Megan Bradley – BSc Accounting and Economics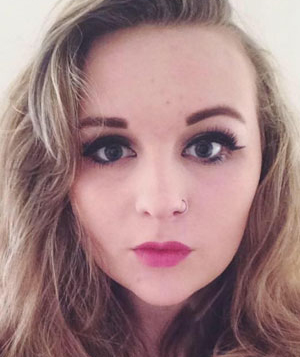 Megan Bradley
Megan Bradley from Wilmslow, Cheshire is a third year BSc Accounting and Economics student.
Why choose Bangor?
A friend already attended this university and I went along to an Open Day and stayed in halls with her for a couple of days and fell in love with Bangor.
The course...
There is a good range of different modules including ones that use accounting and statistical software online. Also the lecturers are excellent and are all very helpful when it comes to exam preparation, assignments or general queries. The office admin staff are also brilliant at helping out. There are so many different combinations of degrees which has to be why I chose to study at Bangor.
The staff are so lovely and always have time to help you out whether it's in their office hours or by email, they truly do want the best for your wellbeing and to make sure that you succeed and get the grades you want.
Highlights...
Academically the highlight is probably my first year modules and getting to experience a range of different aspects of business before having to specialise in my chosen degree.
Life in Bangor...
What I like about Bangor is how close everything is together and it's all within a 10 minute walk. There's a good amount of supermarkets and high street stores and there are also so many amazing cafes!
Clubs and Societies...
I am involved in the dance club and have been the Treasurer for it for the past two years and teach contemporary this year. We do two different shows and a couple of competitions throughout the year and there are so many different classes and types of dance to get involved in, whether this is your first time dancing or you've been doing it for years.
What will you miss most about Bangor when you leave?
The people and how I won't be able to walk 5 minutes up the road to a friend's house.
Plans for the future?
I hope to go into the world of business and work within the economics field.