Student Profile: Ryan Mcstravick – Medical Sciences (BMedSci)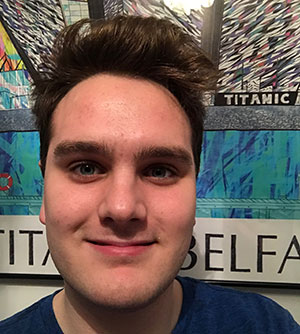 Ryan Mcstravick
Ryan McStravick from Belfast is a 3rd year Medical Sciences student.
Why choose Bangor?
I originally came through Clearing and I had to quickly research various universities. I originally wished to complete post graduate medicine, and found Bangor to offer Medical Science, which was a perfect stepping stone to assist me with my future aspirations.
The course...
The best thing about the course is the variety, we learn everything from Anatomy to Zoonotic diseases. It truly gives you a wide foundation to build the rest of your future career and allows you to shine amongst the crowds.
The school is full of amazing staff, who are all at the top of their chosen field. Their knowledge and passion truly shines through their teaching and really helps you to learn.
Highlights...
It's very difficult to pinpoint a specific event which has been the highlight of the course, as every day is unique and exciting, I am always looking forward to the next lecture but one of most important highlights has been the skills I have learnt. These skills are highly employable and transferable no matter where you may find yourself from time management to analytical thinking.
Social Life
Bangor is in a perfect location for me as I am a fully qualified Scuba Diving instructor, so there are plenty of activities to keep me busy, alongside the academic work.
Best thing about living in Bangor?
In my first year I lived within Bangor. Everything you need is on your doorstep and if there's something you absolutely need; there are always plenty of student discounts online. In my second year, I have fully immersed myself in the Welsh community and I commute daily with my partner from Penmaenmawr, which is a beautiful welsh mining community, very much similar to how the university got its roots.
What will you miss about Bangor?
I will miss the true sense of community and support within the School of Medical Sciences. You are helped to truly work to your potential and the sky is the limit. Secretly I don't want to have to grow up and leave university but the course has given me the best possible tool kit to make the world my oyster.
Has the University been supportive?
The University support has been amazing, they have supported me through tough times and I couldn't fault them. They can't do enough. The staff within SMS, are all approachable and will help in any shape or form.
Plans for the future?
I originally had planned to go into graduate medicine but I found a new passion of mine whilst at Bangor in the form of a part time job. I am going onto a graduate banking programme with Lloyd's Banking Group (the largest group in the UK). I'm aspiring to enter senior management and once I have a few years experience, I intend to return to Bangor to complete the UK's only Chartered Banker MBA course. In the meantime, I'm going to complete a distance learning Banking and Finance masters alongside my graduate programme.