Student Profile: Sara Menai Stockwell – Chemistry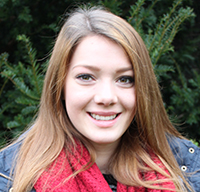 Sara Menai Stockwell
Sara, from Felinheli near Bangor is a former pupil of Ysgol Tryfan, She is in the first year of a Chemistry degree and has received an Excellence Scholarship as she received 3 As in her A Levels.
Why choose Bangor?
Living locally, I had visited the university on various occasions with school and always felt at home in the university's friendly environment. The main reason for choosing Bangor was the fact that I can study part of my course through the medium of Welsh which was very important to me as I have studied all subjects in Welsh throughout school. I was impressed by what the school of Chemistry had to offer on the open day and they made me feel like a part of the school as soon as I arrived.
The Course...
I enjoy my course, especially time spent doing practical work in the labs once a week. I also enjoy working with fellow students in the tutorial sessions.
The lectures are enjoyable and the facilities in the labs are great!

The Excellence Scholarship
I was overwhelmed to win the scholarship and it really made coming to study at Bangor worth it! I am thankful to Bangor University for this as it has given me the motivation work hard to succeed throughout my time at Bangor. The money will come in handy as I need a new laptop for my work.
Life at Bangor...
I really enjoy living and studying at Bangor as I have made loads of friends. I have also joined a Welsh choir, a new hobby for me!

After I have finished my three years studying Chemistry at Bangor University, I want to go on to do a PGCE course and teach chemistry at a secondary school through the medium of Welsh, something I have always wanted to do.