Student Profile: Shailaja Bakshi – Linguistics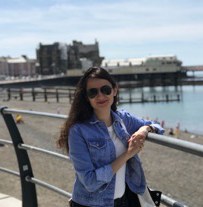 Shailaja Bakshi
Shailaja Bakshi is from Gurgaon in India and is studying Linguistics at Bangor University.
Why Bangor?
I decided to study at Bangor because the courses offered by the Linguistics department matched my preferences. Also, because my father is an alumni of Bangor University and he has shared some heart-warming memories with me.
Social Life
The social life in Bangor is awesome, thanks to places like Academi and Bar Uno where one can go with friends and enjoy. I am involved with the Linguistics society, which gives me an insight to the important topics being covered these days related to linguistics.
Living in Halls…
I live in Garth halls of residence and it has been a great experience living and adjusting with other fellow students. The best part is socializing in the kitchens and the common room at the end of a busy day.
Bangor and the area…
Firstly, North Wales is a very beautiful and scenic place. Bangor has some awesome places to visit. Nearby places such as Anglesey and Llandudno are picturesque and good for shopping.
Support for students…
There is a lot of support available for students such as through the international support office in Rathbone and the wardens in your halls of residence. Moreover, even the course representatives and the staff of the department provide support to students.
Opportunities…
Studying at Bangor has given me the opportunity to extend my aim of becoming a course representative / a guide for the students of my department. It has given me the chance to work with different departments, this has helped me build my confidence and interest in other activities.
Welcome Week…
Welcome Week was a great time when I got the opportunity to meet other students and the staff of my department. It was easy to settle in, since I got good support from my wardens and the peer guides.
Advice for prospective students…
Don't be afraid to take the challenging tasks or activities and enjoy your university time in Bangor.
Best thing about being a student at Bangor…
The best thing is that one gets a multi-cultural experience. My time at Bangor will always be memorable since I got the chance to interact with people from other cultures and nationalities.