Student Profile: Stephanie Morris – Adult Nursing BN (Hons)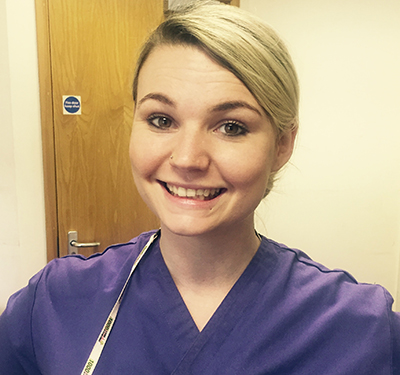 Stephanie Morris
What made you decide to study that course?
I had worked in healthcare for many years and decided nursing was the next step.
Why did you decide to study at Bangor?
Locality of studying nursing in Wrexham close to home as I have a small child. And I knew Bangor had a good reputation for Nursing.
What is the social life like in Bangor?
At Wrexham there are few to none. I was involved in setting up a Nursing Society as there wasn't anything available for students. We now put on events for nursing students.
What kind of support is there for students?
At Wrexham there is very much an open door policy with our lecturers. The support has been brilliant. We had no access to study skills so my colleague fought to have Peer Writing Mentor positions at Wrexham, of which I am one of two.
Has studying at Bangor given you any specific opportunities?
YES! I have been encouraged to undertake research, be involved in projects with my lecturers, set up the nursing society with friends and most recently been nominated for student nurse of the year.
How did you find welcome week in Bangor?
Welcome week was good. It has since improved for the newer students.
What advice would you give to people applying to Bangor?
Bangor University is a wonderful place to study. In terms of applying for a nursing degree, I would encourage anyone who is ready to commit to a challenging but extremely rewarding course.
What is the best thing about being a student at Bangor?
The support I have received from my lecturers has been wonderful. I have had so many wonderful opportunities which have helped me to thrive both academically and professionally.
What have you particularly enjoyed about your course?
The application of theory to practice. Having access to a skills laboratory where we have scenario based lectures has been extremely beneficial.
Have you taken part in the Bangor Employability Award?
Yes, I have accumulated points which will help with my career.
What career do you want to pursue after your studies?
District Nursing.
How do you think the course at Bangor will help you?
The adult nursing degree provides me with the nursing registration I need.
Describe Bangor in three words
Supportive, Empowering, Wonderful.
What will you miss most about Bangor when you leave?
The support from a wonderful team of lecturers.