Student Profile: Will Ormerod – Music and Philosphy and Religion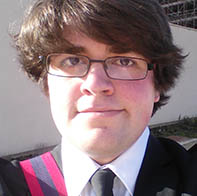 Will Ormerod
Will is from Southampton and is studying Music, Philosophy and Religion.
Why Bangor?
I wanted to study here at Bangor, mainly because of its location in Snowdonia as well as how friendly all the staff and students were on the Open Day. I also liked how small the university is, allowing the schools to be relatively close to each other.
Open Day…
The thing that impressed me the most on the Open Day was how helpful the Peer Guides were for both Music and Philosophy. The staff were also very friendly and knowledgeable.
Social Life…
I am heavily involved in the Music Society as I'm part of the choir, orchestra and string orchestra. I'm also a member of the Mountain Walking Society, which organises walks in Snowdonia every Saturday. The stunning views make it a brilliant society to join.
Bangor and the area…
Bangor is a small city next to beautiful mountains on one side and the sea on the other. It's a very scenic place. There are also enough shops and places around for anyone.
Support…
There is support for students with personal tutors for academic support, school administrators for admin issues, and Nightline and Peer Guides for personal stuff.
Welcome Week…
It was easy to settle in as the Peer Guides and activities set up by the School of Music were very helpful. Everyone is in the same boat for the first week anyway so it's easier than you think.