130 students receive free Commercial Awareness training from BPP
A record-breaking 130 students from Bangor Law School signed up for BPP's Certificate of Commercial Awareness programme, offered free to Bangor students for the fourth consecutive year.
The programme consists of three workshops, the first two of which took place at Bangor in October 2012. The third and final session will be held at BPP's Manchester campus in February 2013.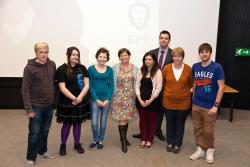 BPP Lecturer Alison Courtier (centre) with Stephen Clear, BPP-Bangor Liaison Officer (back) and members of the Student Law Society and Street Law teams.
Since 2009, Bangor Students' Law Society has been able to offer Bangor students the chance to obtain the career-enhancing BPP Certificate of Commercial Awareness for free, thanks to BPP's continued support and sponsorship of the Society.
The course highlights the need for Law students to be commercially minded and to have business awareness. Students are given an introduction to what it means to be commercially minded, and a taster as to how a law firm operates as a business. Students are also afforded the opportunity to hear from top legal professionals, including partners from major international magic circle firm, as to what makes a training contract application stand out.
Law firms assess commercial awareness at each stage of the application process - application form, assessment centre and interview. This programme enables students to tackle the sort of scenarios they may face.
This year, the first two sessions of the course were delivered at Bangor by Alison Courtier, a former practicing solicitor and lecturer on BPP's Legal Practice Course (LPC). The session was well-attended and well-received by students.
Stephen Clear, BPP Liaison and Mooting Skills Coordinator, commented on how the final workshop in Manchester will be combined with a visit to the Magistrates and Crown Courts for those studying the Legal Skills module. "As part of the first year Legal Skills course, students receive tuition in mooting skills (mock trials) in the second semester. This year the Certificate of Commercial Awareness course will be combined with a visit to the Crown Courts in Manchester. This will afford Bangor Law students the opportunity to see advocacy skills in practice, in a real life context, at the same time as studying mooting."
Students from the Student Law Society and Street Law team were later invited to meet with Alison in celebration of BPP's continued sponsorship and support of student Societies at Bangor University.
Publication date: 8 November 2012