27th Annual Young Scientists Symposium School of Chemistry, Bangor University
The 27th Young Scientist Symposium was held at Bangor University, September 18th 2012. With 47 delegates in attendance the symposium is a great opportunity for scientists from Bangor and Glyndwr Universities, at the early stages of their career, to present their work, as well as network and share information and knowledge. A great varied programme was presented, both in the oral and poster presentations.
A well structured and clearly presented winning oral presentation was given by Mark Pitts. Mark is a third year student at Bangor University, conducting research under the supervision of Prof M Baird. His talk was entitled "Towards the Detection of TB".
In second place was a presentation on the "Synthesis and Testing of New Dyes for Dye Sensitised Solar Cells" by Moneer Mohsen. James Maskery was awarded third place in the competition for his presentation on "When is a Hydrogen Bond a Hydrogen Bond?".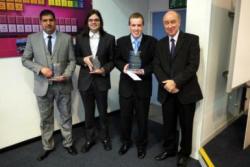 Oral Presentation Prize Giving (L to R): Moneer Mohsen, James Maskery and Mark Pitts and Dr Malcolm Jones (RSC North Wales Section)
Two industrial speakers gave plenary talks during the day. Dr James Timmis, a Bangor graduate, currently works for Liquid Research Ltd and spoke about the properties, uses and potential of magnetic liquids. Dr Anna Codina from Bruker UK Ltd explained how reactions could be monitered using different techniques during process development, and how this could contribute to understanding the processes involved.
A high number of poster presentations made judging particularly difficult this year. Prizes for the best poster presentations with analytical chemistry as their main theme or underpinning the research presented were awarded to: Lingyu Han, Glyndwr University – "Extensional Rheometry and Dynamic Light Scattering of Telechelic Associating Polymer Solutions" (1st), Mark Long, Bangor University - "Towards a Synthesis of a Neuroactive Polybioside from the Social Wasp Polybia paulista"(2nd), and Ben Butler Bangor University – "Enhancing the Quantitative Capacity of MALDI-TOF MS" (3rd).
Poster prizes were sponsored by the RSC North West Analytical Division.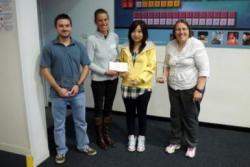 Poster Presentation Prize Giving (L to R): Mark Long, Dr Vera Thoss (RSC North West Analytical Division) Lingyu Han and Dr Lorrie Murphy (accepting on behalf of Ben Butler)
Before the winners were announced, the North Wales Local Section held a special award ceremony to show their appreciation to two extremely valued long serving members of the committee. Dr Andrew Nichol, and Dr Peter Lloyd were presented with a certificate and commemorative plate in recognition of their hard work over the years. Their committment to the section has been second to none, and the committee express their thanks to both. May we wish them the best in their retirement from the committee!
Our thanks to the sponsors; the North West Analytical Division, Liquids Research Ltd, and also the North West Trust whom kindly sponsor this event annually. Thanks also go to the judging panel, Dr Malcolm Jones, Dr Peter Lloyd, Dr Andrew Nichol, and Dr Vera Thoss. Last but not least, thanks go to Dr Lorrie Murphy for her help with organising the event this year, Dr Jesus Cirre (Glyndwr University) as well as all the staff behind the scenes at Bangor University.
Dr Erica Roberts (Chair RSC North Wales Section)
Publication date: 21 January 2013