50 years on: welcoming some of the first graduates back to Bangor
As it celebrates its 50th year, the School of Social Sciences was honoured recently to be able to welcome back three of its very first students.
Eryl Davies, Les Jones and David Simmonds joined the School – then known as the Department of Social Theory and Institutions – in 1966, its year of inception. They were amongst the very first cohort to graduate from Bangor with a degree in the Social Sciences.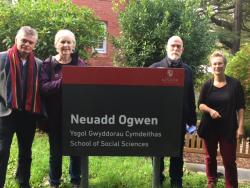 L-R: alumni David Simmonds, Eryl Davies and Les Jones, with current Head of School Professor Martina Feilzer
Here, they look back on their time at Bangor, and how it continues to shape their lives…
Eryl Davies
"I have wonderful memories of my three years in Bangor and I feel very fortunate to have been given the opportunity to be an undergraduate there.
I still remember my interview with Professor Morris Jones when I first applied for a place on this new course. I had worked for a year at a residential Child Guidance Clinic in Colwyn Bay (both my parents were psychiatric nurses and I had already decided on social work as my future career). I was asked why I wanted to get on the course and, almost without thinking, I said "Because I have a thirst for knowledge". It sounded a bit corny but I realised that it was true. I wasn't there to do "social work training" – I wanted something more, to widen my horizons and to be exposed to new things.
On the course we discussed social and political philosophies and ideas, we learned about the great social thinkers, we talked about ethical dilemmas that are so much a part of daily life and my world was suddenly so much richer and broader. Thanks to John Borland and his willingness to help those of us who struggled with maths, I was able to pass the Statistics class (and now have a daughter who has a Masters in Social Policy Research!). Cyril Parry nurtured my passion for politics and I got to study with people from many different backgrounds. The university - and this department in particular - transformed my life. I made some wonderful friends from this department and others, and we continue to have a close bond, despite the fact that we are living a long way from each other.
I went on to do social work in Nottingham, Bristol and Somerset (gaining my professional qualifications from Bristol University) and since that time, have moved to live in California with my husband and family - but I shall never forget my time in Bangor. In recent years, I have worked in arts administration, and I continue to have a thirst for knowledge!"
Les Jones
"I enrolled on the Social Theory and Institutions course purely by chance. I'd intended to go for Mathematics, but my personal tutor took one look at my A Level results and suggested that I would struggle with Maths. "There's a new course beginning...." he said, and three years later I found myself with a degree in Economics and Social Theory. And they were three very good and very varied years indeed. My first year courses, alongside Social Theory and Economics, included English Literature, and in the second year I added Philosophy and Logic.
In Social Theory I remember particularly Trefor Owen's sociology course and John Borland's statistics and criminology courses, which together led me towards my first job after university as a Research Officer in a government department. Cyril Parry's politics course was also influential for me. My father (a lifetime trades union member and factory shop steward for much of his working life) had been my main political influence – Cyril Parry put the philosophy and theory into place, but he had a very pragmatic approach to political systems (does they work?) that has stayed with me ever since.
Of course, the social side of university life was also important, being away from home for the first time and amongst so many other young people in the same situation. As the weekend spent with eleven other Bangor graduates from the same year testified, friendships made then survive the test of time. And, most importantly, I met my wife Rosie at Bangor.
After four years in London at what was then Government Social Survey, I returned to Wales to work on a Home Office-funded community development project in the Afan Valley, north of Maesteg, where I still live. Spells in the local authority town planning department (their "tame sociologist" – thank you Trefor Owen), followed by eighteen years in Home Office sponsored community crime prevention programmes (thank you John Borland) and twelve years in children and young people services took me to retirement, which was followed by a stint as a local councillor (thank you Cyril Parry). I'm still involved in local government, but from the voluntary sector side, as trustee with two local charities. And that one year of philosophy gave me a lifelong interest in the subject, and is still proving very useful in the theology course on which I'm now enrolled.
All in all, Bangor and Social Theory are still important parts of my life."
David Simmonds
"I was given my place in Bangor from the waiting list and due to some confusion on the part of the Universities Central Council on Admissions (UCCA), the body that then administered the admissions procedure but who failed to tell me I had an offer, I arrived at the University at the very end of Freshers' Week to do a joint degree in English and History with no idea that I needed a third subject for my first year.
I chose Social Theory and Institutions principally because I'd just started going out with a girl in London who was keen to do her degree in sociology, the hot subject in the 1960s, but I've never regretted making it my Honours subject.
What did it give me? Well, I arrived in Bangor a rather uncurious, apolitical young man, happy to be fed and regurgitate facts on English texts and historical facts. I think Social Theory made me much more interested in why our societies are the way they are, and to question whether they could be improved.
It gave me an understanding of the importance of research, of reading widely, of coming to an opinion I could defend; it taught me how to communicate clearly and succinctly, and it awakened whole new areas of interest for me – criminology, for example. Possibly not statistics.
I became a journalist, working for most of my career in BBC Wales television News and Current Affairs, a time I enjoyed immensely and for which I have a great deal to thank Bangor University and the then new department.
I also had a very good time and made a great many friends, many of whom I still see.
So thank you, Bangor, and here's to many more years of success."
Publication date: 1 December 2016