A 'Standing Ovation': Drama Skills for Mooting Students
First year undergraduate Legal Skills students received a lecture with a difference as the Just Some Theatre Company visited Bangor Law School to deliver some expert confidence building and presentation skills workshops.
The session was organised by the Legal Skills team as part of the students' preparation for their final public law judicial review moot assessment. A moot is a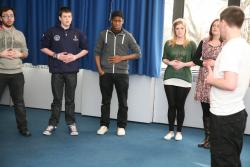 Jake Urry of the Just Some Theatre Company helps the students work on their vocal projection.mock trial simulation where students work in teams of four to six to select relevant evidence and prepare oral submissions relating to a fictitious scenario. This evidence is thereafter assessed by all Law School staff who fulfil the role of judges.
The sessions were delivered by actors Peter Stone and Jake Urry of the Just Some Theatre Company. "As a theatre company we have found that stage actors have many skills that are transferrable to a mooting situation", explained Jake. "Projection, posture, articulation and gesturing are all components that speakers need to be aware of in order to make an impact, and that led us to devise a workshop that covers these often overlooked skills."
The public law judicial review moot assessment will see students examine and rebut each other's arguments relating to key legal principles pertaining to bringing a claim for judicial review. As part of this assessment students will be judged on their professionalism, courtroom etiquette and presentation structure. These drama workshops were specially tailored by the Just Some Theatre Company to ensure the session was firmly grounded in relevance to mooting skills. Commenting on the session, Stephen Clear, Mooting Skills Coordinator, said: "the sessions were very interactive and saw students actively participate in confidence-building tasks that made them think carefully about presentation skills. Posture, body language and voice projection, for example: all of these skills are essential characteristics of delivering a confident and coherent moot argument."
Dr Penny Dowdney, Legal Skills Module Leader, added: "The skills developed through these sessions will better enable students to fully consider the oral communication elements of the legal points they are making."
The two-hour workshop was divided into two. The first workshop saw students work on their voice projection by looking at posture, body movement and positioning, tongue exercises, and vocal inflections. The second workshop had students considering different confidence-building techniques and how to manage nerves.
"The workshop covered a wide range of skills that all work together in a mooting scenario", said Peter Stone. "Students adapted well to the active and demanding work, which included stress management, body posture, non-verbal communication and vocal skills. We received a lot of positive feedback from the participants and we thoroughly enjoyed working with the Bangor Law students."
The session was well-received by students. Aaron Clegg, a first year undergraduate student from Manchester, enthusiastically commented: "I thought it was interesting to see the overlap between mooting skills and those skills employed by professionals in the drama industry. The speaking exercises were valuable and I personally learned a lot from the posture exercises."
Publication date: 3 May 2013