A triumphant return to the Telders competition for Bangor
For the second year running, Bangor Law School is celebrating success in a world-famous mooting competition.
Last year, a team from Bangor became the first ever to represent Wales at the Telders International Law Moot Court competition, finishing 17th overall. This year's team managed to go one step further and finish in 16th place.
The students' success is all the more remarkable considering they had no prior knowledge of international law, and that most of their competitors are currently undertaking Masters degrees in that very field.
The team, comprised of undergraduates Aaron Clegg, Rebecca Fenton, Kgositsile Ngwenya and Mohammed Khorasanee, were ably coached by lecturer Dr Yvonne McDermott Rees and third-year student Adam Gulliver, who represented Bangor at last year's competition.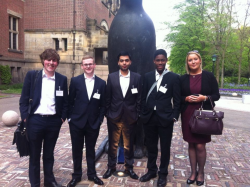 The 2014 Bangor Law School Telders team: (left to right) student coach Adam Gulliver, Aaron Clegg, Mohammed Khorasanee, Kgositsile Ngwenya and Rebecca Fenton.
"As team coach, I am so proud of Mo, Kgosi, Rebecca and Aaron, who did Wales proud in this year's competition and received some highly complimentary remarks from the judges", commented Dr McDermott Rees. "I would also like to take this opportunity to thank Adam Gulliver who, as student coach, offered the team fantastic advice and put them through their paces in our many training sessions over the past six months.
"Each of the team members have remarked on what an amazing experience this was for them, and they have learned skills that will stand them in great steed as they finish their degrees and enter into employment", she added.
Held annually at the Peace Palace in The Hague, Holland, the Telders International Law Moot Court competition is an educational event in which students from all over Europe compete against each other. Each team has to represent both the applicant and the respondent sides of a fictive legal case in conditions that simulate real court proceedings. This year's case concerned the hijacking of a commercial aircraft.
"The Telders competition is an amazing opportunity for law students to take control of a case over the course of the academic year", said second-year LLB Law student Aaron Clegg, from Oldham. "The sheer amount of work that was put into the project resulted in a clear attachment to the case, and it's one of the few chances at university where you can build upon and develop a project from start to finish. I was really proud to represent Bangor University and Wales and I would strongly encourage as many students as possible to apply to enter the competition next year."
Kgositsile Ngwenya, a second-year Law with French student from Co. Laois in Ireland, added: "As a law student, one of my concerns was to improve my public speaking. Speaking in the Hague helped me to really improve and grow in confidence. The Telders competition was such a great opportunity for me and I would recommend it to anyone who wishes to improve their advocacy skills."
The team and their coaches wish to extend their thanks to those who supported the team on their journey to The Hague, particularly Dr Hayley Roberts, Sarah Nason, Stephen Clear and Chaynee Hodgetts, who acted as guest judges during their preparations, and Head of School Professor Dermot Cahill, for allocating the funds to cover their participation fee.
Publication date: 12 May 2014