Andra turns criminal investigator on summer internship
A second-year Bangor Law student completed an eye-opening work placement over the summer.
Andra Filimon returned to her home country of Romania to undertake a six-week internship with the Homicide Department of the General Directorate of Police of the Bucharest Municipality.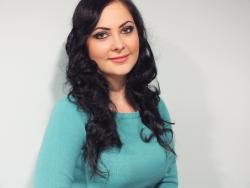 Second-year student Andra undertook a fascinating internship with the Bucharest Police.
During her placement, Andra had the rare opportunity to assist in a number of criminal investigation activities alongside the officers of the Homicide Department. "I witnessed a number of hearings and even a few autopsies", said Andra, a student on the LLB Law with Criminology. "In one case which involved a fight between two homeless men – sadly resulting in a fatality – I assisted colleagues with the reconstruction of the crime scene, after which I was given the opportunity to question the defendant." She was also able to put her English-language skills to use by facilitating communication between the Bucharest Homicide Department and the Metropolitan Police in London. "I assisted with telephone and email enquiries between the two departments, which were collaborating on the investigation of a crime committed in Bucharest in November 2012."
Having the opportunity to be so deeply involved in serious criminal investigations was certainly an enlightening experience for Andra. "I learnt so much from this internship – not only about this field of work and how to progress within it, but also about people in general", she commented. "As one of the Police Commissioners told me, you learn this job walking the street, not sitting behind a desk." The experience also gave Andra a head start on modules she would be commencing upon her return to Bangor. "What I learnt during the internship helps me in the Criminal Law and Criminological Theories modules now. Although I have read books on the matter, learning the theory is nothing like seeing it in practice."
The experience has confirmed to Andra that this is the right career path for her. "I believe my placement with the Bucharest police has kick-started a future in this field for me. After graduating from Bangor Law School, I hope to complete a Masters in Criminology and Psychology before undertaking a PhD in Criminology."
Andra was praised for her contribution and professional manner, with the Police Commissioner, Gavris Radu, saying: "Andra rapidly integrated into the team; was never late or absent; and showed commitment, discipline and an ability to relate to the police officers".
Her Personal Tutor at Bangor, Stephen Clear, added: "Andra has a clear passion for criminal law and criminology study. Her dedication and commitment to pursuing extracurricular interests in the areas of criminal justice and forensic investigation have truly enriched her CV. Andra is now considering what she would like to do after completing her LLB studies, and is interested in studying at postgraduate level in order to investigate the link between her practical experiences and academic theory".
Publication date: 19 November 2013