Author credits Bangor for his success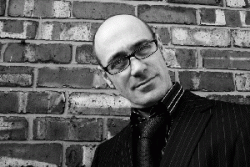 Bangor Alumnus Andy PacinoA successful Bangor University alumnus who became a journalist and an author, is looking forward to completing his next two books.
Andy Pacino was raised in Warwickshire and went to George Eliot High School, where he caught the writing bug. After school, Andy moved to Manchester and attended South Trafford College before taking an English Literature degree at Bangor University.
Andy recalled: "Although a couple of my books are based on fact, I have introduced characters and scenes where I've had to use artistic license and it was my time at Bangor that gave me the skills to do that.
"After ten years in journalism, where, let's face it, artistic license is rife, I knew I could handle writing books."
Andy's first foray was down to an argument he had with an Everton about being an armchair football fan. I Was There When We Were Crap is just what it says on the cover, a book about being there for his team – albeit Manchester United – went through a rough patch after Alex Ferguson joined.
In fact, Sir Alex was so pleased with the first draft that he offered to write the foreword for it, an offer Andy didn't refuse.
His second book, SAS: First Man Through The Door, was banned by the Ministry of Defence over various Special Forces issues, and this meant his second book, Sierra Leone, Deliver A Blow, was a rewrite. The book is an account of the now famous SAS mission, Operation Barras, where Tony Blair sent the UK's elite force into the African country to rescue a group of Irish Rangers who a rebel faction had captured.
"I had a deal with Mainstream, who told me First Man Through The Door would be a best seller, and I did a lot of TV work on the Sierra Leone civil war and Operation Barras in particular, but after the MoD banned it, I had to change a few things they weren't pleased with. Mainstream pulled out, though forewent the advance, which was nice of them, and it is out now under the No Ordinary Family Productions label."
Andy puts his success down to the tutelage of Bangor's eminent Creative Writing Professor, Ian Gregson,
"Ian is a genius and I was lucky he was my tutor," Andy says, "He taught me how to see things in texts I never dreamt possible, and the insight he gave me drove me to bring my characters to life."
Andy is currently working on his next two books; the first is an account of the British Army's involvement in the second Gulf War: I'll Get You Before You Get Me, and is told from an undercover SAS soldier's viewpoint, while the second is a crime thriller, involving the Manchester underworld that focuses on drug dealing and car ringing. A working title is From Manchester to San Sebastian and it should be available within the next year.
These days, Andy is based in the Middle East and works as an Education Consultant and a full time writer. He's also working on an MA in TESOL at present and has plans to take on a Phd in Creative Writing – through Bangor University – next year.
All of Andy's books are available at Amazon and are on Kindle for on Kindle download.
Publication date: 11 November 2015