Award Winning month for History
Three members of staff from the School of History, Welsh History and Archaeology were invited to attend the Bangor University Student Led Teaching Awards (SLTA) on April 30th in PJ Hall, as they had been short-listed in two of the prestigious categories.

Dr Mark Hagger and Dr Dinah Evans were both short-listed for the Outstanding Pastoral Support Award, and Dr Mari Elin Wiliam won the Teacher of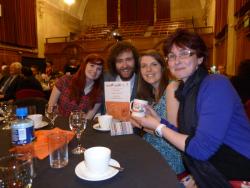 Hannah Pickering, Daniel Herbert and Harriet Weller with Mari Wiliam and the Teacher of the Year award. the Year category. They were joined at the Awards by four undergraduate students – Alice Lovell, Hannah Pickering, Daniel Herbert and Harriet Weller - who were amongst those who had nominated them.

In addition, Vicky Allen – the Year 3 History Course Representative – was short-listed for the Course Representative of the Year category at the Awards. This followed hot on the heels of her success winning the Peer Guide of the Year title.

Dr Peter Shapely, Head of School, said:

"I'm delighted with Vicky's success: coming top out of 400 peer guides in the University, and then being recognised for her dedication as a course representative, is highly impressive. It is very well-deserved.

"In addition, the icing on the cake of Vicky's successes has been the recognition of Mark, Dinah and Mari at the SLTA. This demonstrates the enthusiasm and energy which our staff members devote to both their teaching and their students,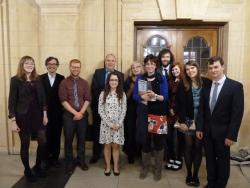 Staff and students from the School of History are joined at the Awards by two former Bangor History graduates: Antony Butcher (SU President) and Rhys Taylor (VP for Education and Welfare)and exemplifies the caring, close-knit community we have at the School of History.

"All of us would like to extend our heartfelt thanks to the students who took the time and effort to nominate our staff members."

For further details about the 2014 SLTAs, along with a photo gallery of the Awards, are available here.
Publication date: 12 May 2014