Bahraini students' academic success recognised
Around 40 students who joined Bangor Business School through a partnership with the Bahrain Institute of Banking and Finance (BIBF) have celebrated their graduation in their home country.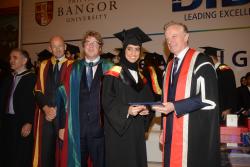 Maryam receives her award from Bangor University Vice Chancellor Professor John Hughes
A special ceremony, co-hosted by BIBF and Bangor University, was held at the Gulf Hotel, Bahrain, on Sunday 7th September. Representing Bangor University were Professor John Hughes, Vice Chancellor; Professor Phil Molyneux, Dean of the College of Business, Law, Education and Social Sciences; and Professor John Thornton, Head of Bangor Business School.
Amongst the graduates was Maryam Khaled Ahmed Abdulla Mahmood, who came top of her entire year at Bangor Business School. During the ceremony, she was presented with the Craig Williams Memorial Award for the best performance in any Bangor Business School degree.
"Bangor Business School has partnered with BIBF for nearly a decade, and over 400 Bahrain students, who perform to a high level, have graduated from the University in that time", said Professor Phil Molyneux. "The Business School intends to strengthen the partnership by offering degree programmes in Bahrain, starting October 2015."
Publication date: 16 September 2014